Ron Perlman Would Like You To Help Make 'Hellboy 3' Happen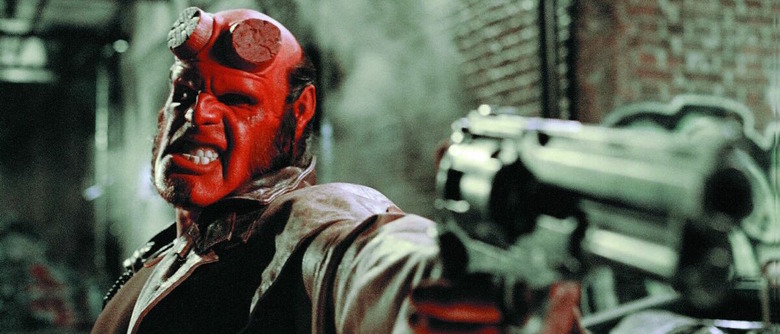 Ron Perlman has been trying for years to make Hellboy 3 a reality, and even seven years later he isn't giving up. The actor took to social media to rally fan support for his dream project. This time, he got co-stars Doug Jones, Selma Blair, and Jeffrey Tambor to chime in as well. See the Ron Perlman Hellboy 3 campaign after the jump. 
The latest Ron Perlman Hellboy 3 campaign started on Twitter and Facebook.
Anybody out there wanna see #HellboyIII as much as I do? Let's get this muthafucka trending, y'all!
Let's end the trilogy; we earned it!

— Ron Perlman (@perlmutations) June 3, 2015
Jones was quick to throw his support behind Perlman.
@perlmutations Locking elbows with you, Big Brother Red!! #HellboyIII

— Doug Jones (@actordougjones) June 3, 2015
Blair seems pretty excited about the idea, too.
Amen big red. https://t.co/x3t3UDDUAb

— Selma Blair (@SelmaBlair) June 4, 2015
Tambor didn't tweet anything of his own, but he did retweet the following. We're just going to count that as a statement of support.
Hells yeah we want a Hellboy III! Represent! @actordougjones @perlmutations @jeffreytambor

— A Fata Morgana (@IAmLazarusJones) June 4, 2015
It's great that these stars are so eager and willing to dive into another Hellboy movie. But as they say, wishes aren't horses, and it's unclear whether Perlman's latest campaign will actually get anywhere. The first two Hellboys were modest successes, financially speaking, but they clearly weren't big enough to guarantee a sequel.
Perlman and others have tried valiantly to get a Hellboy 3 off the ground. It seems like every few months for the past several years, we've seen another quote from Perlman or director Guillermo del Toro saying how badly they want to make it happen. But at this point, even del Toro has admitted it probably won't come together anytime soon.
The major sticking point is money, as it so often is. "Creatively, I would love to make it. Creatively," del Toro told Reddit last year. "But it is proven almost impossible to finance." He added, "[W]e have gone through basically every studio and asked for financing, and they are not interested."
That's not to say Perlman shouldn't try. Things do change. Comic book movies are hotter than ever, and del Toro might have a hit in this fall's Crimson Peak. Plus, if Hellboy 3 is unlikely to happen as it stands, it definitely won't happen without people like Perlman reminding studios and financiers that, hey, there's still an audience for a Hellboy 3 out there.
To show your support, tweet under #HellboyIII. It can't hurt, right?