Akiva Goldsman Teases 'Transformers' Franchise Plans As Steven DeKnight Joins Writers Room [Updated]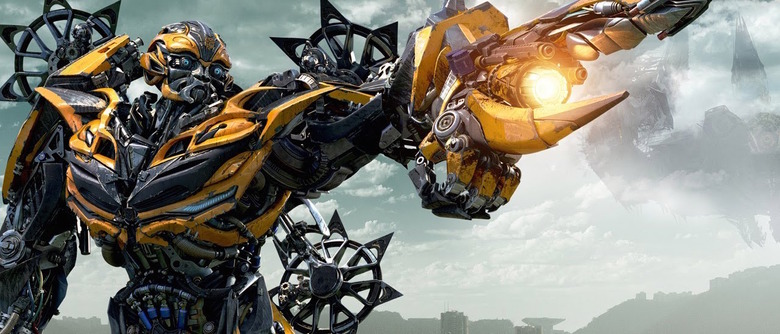 The Transformers writers room continues to expand. Black List scribes Geneva Robertson-Dworet and Ken Nolan are the latest to come aboard, joining Robert Kirkman, Zak Penn, Jeff Pinkner, and many more.
Update From Editor Peter Sciretta: Daredevil executive producer/showrunner and Starz' Spartacus creator Steven DeKnight has been added to the Transformers brain trust as "the final member" according to Deadline.Angie's original story from June 5th 2015 follows:
As for what Paramount plans to do with this pool of talent now that they've amassed it, writers room head Akiva Goldsman explains. In short, they'll look at all things Transformers to "establish a mythological timeline" and simultaneously develop multiple Transformers projects. Find out everything there is to know about the Transformers writers room after the jump.
Besides Nolan and Robertson-Dworet, the Transformers writers room consists of Robert Kirkman (The Walking Dead), Art Marcum and Matt Holloway (Iron Man), Zak Penn (Pacific Rim), Jeff Pinkner (Fringe), Andrew Barrer and Gabriel Ferrari (Ant-Man), Christina Hodson (Warner Bros.' upcoming The Fugitive remake), and Lindsay Beer (Disney's upcoming Dig).
Robertson-Dworet co-wrote the 2012 Black List script Hibernation. Her other current projects include a sci-fi thriller for Anna Foerster (Roland Emmerich's longtime DP) to direct, another sci-fi thriller for Jerry Bruckheimer, and a psychological thriller for Bad Robot.
Nolan landed on the 2014 Black List for The Defection, based on a Cold War novel by Robert Littell. Fox picked up that spec script last fall. Nolan previously adapted Littell's The Company into a miniseries for TNT. He's also known for writing Black Hawk Down.
Starting Monday, the Transformers writers will meet on the Paramount lot to map out the next evolution of the Transformers franchise. The first step will be for the scribes to immerse themselves in the Transformers universe. Goldsman told Deadline:
We've got a work space that is beautifully production designed to be immersive with a strong sense of the franchise history. We will look at the toys, the TV shows, the merchandise, everything that has been generated by Hasbro, from popular to forgotten iterations, and establish a mythological time line. It has been designed with a lot of visual help, toys, robots, sketches and writers and artists. After that super saturation, the writers will figure out not one, but numerous films that will extend the universe.
The top priority is cracking Transformers 5, so that there'll be a script ready to go by the time Michael Bay is done directing 13 Hours. Beyond that, the writers will have the opportunity to explore other kinds of Transformers stories. For example, Goldsman continues:
If one of the writers discovers an affinity for Beast Wars, they can drive forward on treatments that will have been fleshed out by the whole room.
Besides a new version of Beast Wars, the '90s CG-animated series, other ideas said to be floating around include a Bumblebee spinoff and a Cybertron-set Transformers origin story. However, Goldsman didn't confirm any details on future Transformers projects.
He did add that the Transformers writers room was inspired by the TV-making process:
There is such reciprocity between TV and movies now, that we're borrowing this from TV. I got a taste of this from J.J. Abrams when I came in to write an episode of Fringe, and then Jeff Pinkner let me hang around for four years like the drunk uncle. The whole process of the story room was really delightful, and we are seeing it more in movies as this moves toward serialized storytelling. There are good rooms around town, including the Monsters Room at Universal, the Star Wars room, and of course, at Marvel. We're trying to beg, borrow and steal from the best of them, and gathered a group of folks interested in developing and broadening this franchise. There is a central corridor of movies that has been proceeding quite well, but our challenge will be to answer, where do we go from here?
Transformers 5 is expected out sometime in 2017.