One Direction Fanfiction Movie 'After' Moves Forward At Paramount With New Writer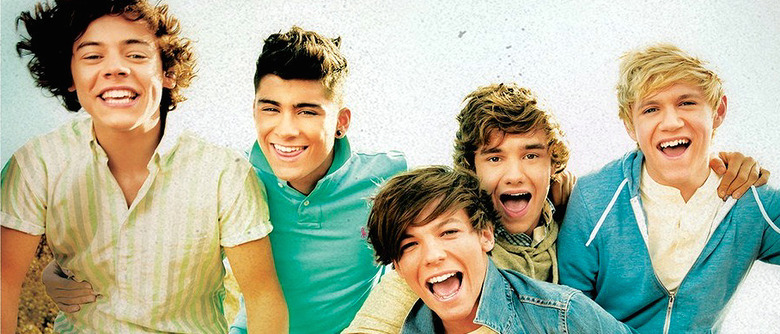 Thank (or blame, depending on how you feel about it) Fifty Shades of Grey: Another famous piece of fanfiction is getting turned into a movie. Paramount is moving ahead with After, an adaptation of the One Direction-inspired novel by Anna Todd, with the help of Mom and Two and a Half Men writer Susan McMartin. Find out all about the One Direction fanfiction movie after the jump. 
After is like Fifty Shades of Grey in more ways than one. Todd's story began as a popular bit of fanfiction on Wattpad, where it racked up over 1 billion reads. It later got picked up by Simon Schuster's Gallery Books imprint, and after some reworking (including new names for the characters), was published in fall 2014.
Also like Fifty Shades of Grey, After centers around the steamy but rocky romance between a virginal student (here named Tessa) and an emotionally unavailable bad boy (here named Hardin, and loosely modeled after One Direction band member Harry Styles). Todd herself has described her book as "the vanilla version of Fifty Shades of Grey."
Paramount picked up the rights to After in October, a few days ahead of its publication. Jennifer Gibgot and Adam Shankman are producing. No director or stars have been announced. (For her part, Todd has said she envisions Douglas Booth and Indiana Evans in the lead roles. "I would love Harry to do it, but I can't imagine him getting into that kind of role," she told E! last year. "He is too sweet to play him.")
It's hard to blame Paramount for wanting to replicate the success Universal found with Fifty Shades of Grey. Made on a budget of $40 million, it wound up grossing $569 million worldwide. Indeed, others are following the Fifty Shades formula even more closely — in 2013, Constantin Films acquired the rights to Beautiful Bastard, based on a different Twilight fanfiction story.
McMartin is known for her work on the CBS shows Mom and Two and a Half Men. She also wrote the script for Cook, an upcoming film starring Eddie Murphy and Britt Robertson.