Jason Statham Rumored For 'Daredevil' [Update: Statham On Marvel: "Anybody Could Do It"]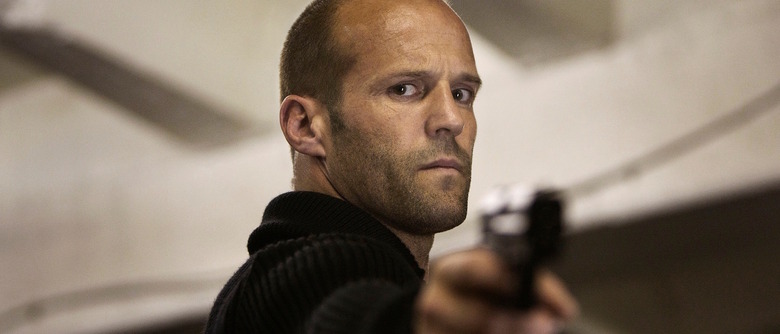 As if Matt Murdock didn't have enough to deal with already, Daredevil Season 2 could see him locking horns with a high-powered movie badass. Rumor has it Jason Statham is being eyed to play Bullseye on the next season of the Marvel series. Click through for all the details on the Jason Statham Daredevil rumor.
UPDATE: While it's not a direct response to the Daredevil rumors, Jason Statham has gone on the record with his opinion of Marvel movies... and it's not super flattering. See what he had to say at the end of this post.
The Jason Statham Daredevil story comes from Latino Review. According to their sources, Marvel TV wants Statham for the role, and Statham has actually met with them about it. Marvel hasn't publicly confirmed anything, so we'd caution you to take all of this with a grain of salt for now.
With or without Statham, it seems we're looking at a villain-heavy Daredevil Season 2. Also rumored to appear are Mr. Fear, though it's unclear which version; Elektra, who goes on to become Daredevil's love interest; and Mysterio, a classic Spider-Man villain. The latter could help build up some of the Spider-Man mythology as the webslinger prepares to make his MCU debut in Captain America: Civil War.
Interestingly, this isn't Statham's first brush with the Man Without Fear. Back in 2008, Statham told the Comic-Con crowd that he "would love to be Daredevil." Frank Miller, whose work on the Daredevil comic shaped the character we know today, thought that idea was just swell. But that casting never came to pass and eventually the Daredevil rights went back to Marvel.
Bullseye is a fan-favorite villain and an important part of the Daredevil mythos in the comics. Casting Statham would be a huge coup for Marvel. But it'd be a bit of an unusual choice for Statham, as he's never really done TV. In fact, he's coming off of one massive box office hit (Furious 7) and his next film, Spy, is expected to do big business this weekend.
Daredevil Season 2 shoots this summer, and will premiere on Netflix sometime next year. Charlie Cox once again stars as the titular superhero, and Vincent D'Onofrio, Elden Henson, Deborah Ann Woll, and Rosario Dawson are all set to return as well. Doug Petrie and Marco Ramirez replace Steven DeKnight as showrunners.
UPDATE: While Marvel is apparently high on Statham, the feelings may not be reciprocated. While on the press tour for Spy, Statham got in a little dig at Marvel.
A lot of the modern sort of action movies I see, you know, Marvel comic sort of things, I just think, any guy can do it. I have no ambition. I mean, I could take my grandma and put her in a cape, and then put her in a greenscreen, and then have stunt doubles come in and do all the action. Anybody can do it. I mean, they're relying on stunt doubles, and greenscreen, and $200 million budget, it's all CGI-created. So to me, that is not authentic. I'm inspired by old, real star guys that can really do it.
Honestly, Daredevil has better, more authentic action than a lot of the Marvel other movies do. If Statham were actually to join the MCU, Daredevil might be the best place for him. But that's still a big if, especially considering everything he says above.
Thanks to /Film reader Laura for the tip!