'Sharknado 3: Oh Hell No!' Teaser Trailer Compares Itself To 'Lord Of The Rings' And 'The Godfather'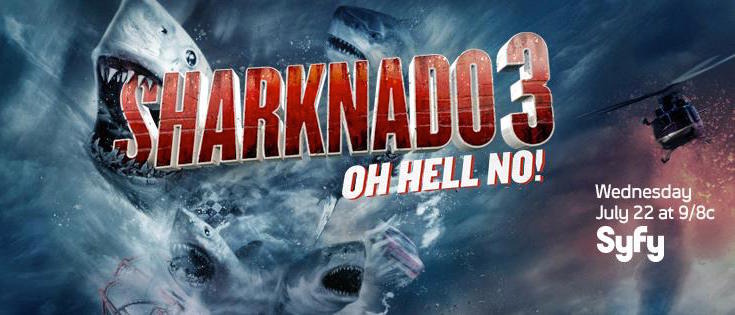 What do Sharknado, The Godfather, Lord of the Rings, and Dark Knight all have in common? Well, they're all movie trilogies. And... that's about it. But Sharknado is nothing if not delightfully shameless, so the new Sharknado 3 teaser trailer compares itself to those iconic film series al the same.
Ian Ziering and Tara Reid are back as Fin and April, who at this point should probably just resign themselves to staying indoors Sharknadoes seem to follow them wherever they go. Mark Cuban plays the president of the United States, because why not. Feast your eyes on the Sharknado 3: Oh Hell No! teaser trailer after the jump.
Syfy unveiled the first Sharknado 3 teaser trailer on YouTube.
Jaws warned moviegoers not to go into the water. But what are you supposed to do when bloodthirsty sharks are literally flying through the air and landing on on the Lincoln Memorial's lap? Well, if you're Fin, you pick up a couple of machine guns and go rampaging through the White House. Seems reasonable to me.
Sharknado 3: Oh Hell No! airs Wednesday, July 22 at 9/8c on Syfy.
Sharknado 3 will cause mass destruction in Washington, D.C. before roaring down the Eastern Seaboard and into Florida, and stars Ian Ziering as Fin, Tara Reid as April and Cassie Scerbo as Nova. Joining them will be David Hasselhoff as Fin's father, Gil; Bo Derek will play April's mother, May; Ryan Newman will play April and Fin's daughter, Claudia Shepard, and Jack Griffo will portray Claudia's friend, Billy.
Additional cameo roles include Mark Cuban as the President of the United States; Ann Coulter as the Vice President; Michele Bachmann as herself; Jerry Springer as Mr. White, a manic tourist; Washington Redskins tackle Tom Compton as a reporter; *NSYNC singer Chris Kirkpatrick as a pool lifeguard, and Chris Jericho, who will portray Bruce the roller coaster ride operator.