'Z For Zachariah' Trailer: Margot Robbie, Chiwetel Ejiofor, And Chris Pine In A Post-Apocalyptic Love Triangle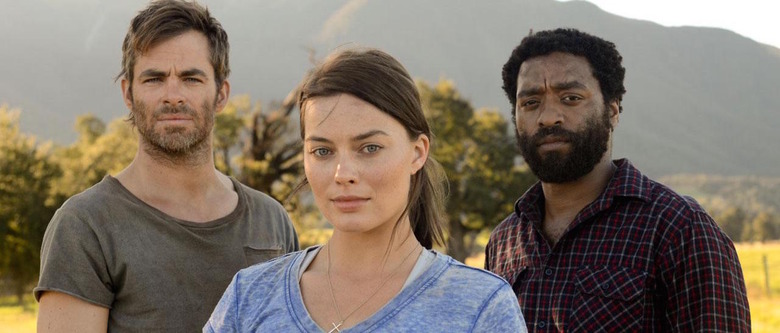 Margot Robbie finds herself at the center of her own post-apocalyptic love triangle in the first trailer for Z for Zachariah. But being that she may literally be the last woman on earth, the stakes are a bit higher than your usual Team Peeta vs. Team Gale shenanigans.
The trouble starts when Ann (Robbie) makes the startling discovery that another person (Chiwetel Ejiofor) has survived the mysterious catastrophe that left her alone. The two of them forge a bond, but it's disrupted when yet another person (Chris Pine) enters the mix. Watch the first Z for Zachariah trailer after the jump.
Z for Zachariah is the latest effort from director Craig Zobel, who previously delivered the unsettling Compliance. What made that film so effective wasn't the creepy villain, but the way Zobel exposed some ugly truths about human nature. Z for Zachariah doesn't look like it's aiming to be disturbing in the same way, but hopefully Zobel is able to ground this sci-fi scenario in a similarly grounded sensitivity.
The film debuted at Sundance to mostly positive reviews. Our own Germain Lussier liked, but didn't love it, describing it as "an anti-post-apocalyptic movie as it's much more concerned with human relationships than anything else going out around them." Unfortunately, he continued, all the talent on display "almost feels wasted on a script by Nissar Modi that tries too hard to be ambiguous and introspective."
Z for Zachariah lands in theaters August 21, 2015.
In the wake of a nuclear war, a young woman (Margot Robbie) survives on her own, fearing she may actually be the proverbial last woman on earth, until she discovers the most astonishing sight of her life: another human being. A distraught scientist (Chiwetel Ejiofor), he's nearly been driven mad by radiation exposure and his desperate search for others. A fragile, imperative strand of trust connects them. But when a stranger (Chris Pine) enters the valley, their precarious bond begins to unravel.