Justin Lin Talks 'Star Trek Beyond,' Teases New Villains, Confirms It's An Original Story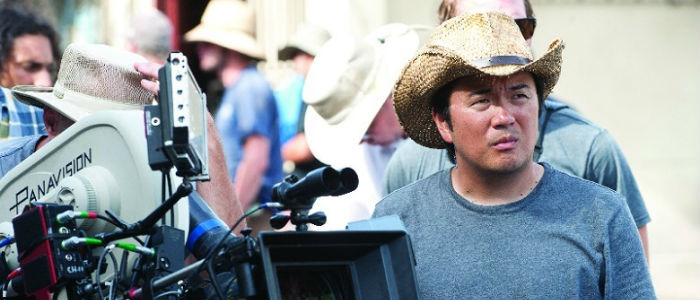 Production is only a few weeks away from starting on Star Trek Beyond, the third film in the rebooted Star Trek series. This will be the first film in the new series not directed by J.J. Abrams, but it is in very capable hands. Justin Lin is directing this Trek film and, in a new interview, Lin explained his deep Star Trek fandom. He also talked about what he felt the first two films didn't do, what this film will do, that the story is not based on any previous Star Trek story and subtly hints at the new villains. Read the Justin Lin Star Trek 3 quotes below.
Lin did an in-depth interview with Deadline on the occasion of having his hands immortalized outside the TCL Chinese Theater. Here are a few of the Trek-centric interview highlights, but head to the link to read about Better Luck Tomorrow, Fast & Furious and more.
First, Lin talked about his personal experience with Star Trek:
My dad worked 364 days a year, only took Thanksgiving off, and from age 8 to 18, the only time I could hang out with my parents was by staying late. And every night, it was Star Trek on Channel 13 in L.A. That was my childhood. All my friends were Star Wars kids but I didn't go to the movies, so I was the Star Trek kid. Thinking about this, it became a very personal and very emotional decision.
Then he talked about how Beyond would differentiate itself from Abrams' films:
As great as JJ's films were, there's still a lot to be mined from these characters. They haven't really gone on their five-year mission, so what we experienced in the TV show hasn't been touched on yet. That sets up an opportunity for exploration and the deeper you go, the more you are examining humanity. Those are the things that I absorbed as a kid and hope to tap into and embrace and celebrate. By the time this movie comes out, Star Trek will have been around for 50 years.
Finally, he talked in very vague terms, about the story and villains of the film:
It's all new and fresh. The Klingons, Romulans and other species are great, but it's time to go further. It has been fun to focus on creating whole new worlds and species.
So does that mean the Klingons and Romulans won't be in the movie? Not necessarily but it certainly sounds like they're trying to create a new "species" right? Could that species be the bad guys? Maybe we'll hear in the next few weeks as production starts at the end of June leading to a July 2016 release.