Roberto Clemente Baseball Biopic In The Works At Legendary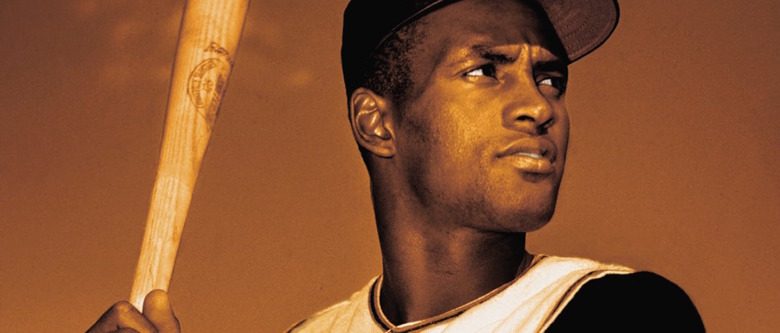 Following the success of their Jackie Robinson biopic 42, Legendary is turning its attentions to a different baseball trailblazer. The company is developing a film about Roberto Clemente, the Pittsburgh Pirates right fielder who became the first Latino player inducted into the National Baseball Hall of Fame.
Get all the details on the Roberto Clemente movie after the jump. 
THR reports Legendary has acquired the rights to the book Clemente: The Passion and Grace of Baseball's Last Hero by David Maraniss. In addition, the company has reached a deal with the Clemente family for his life rights. Ben Silverman and Jay Weisleder will produce, and Giselle Fernandez and Sandra Condito will executive produce.
The Puerto Rico-born Clemente spent his entire professional baseball career — 18 seasons, spanning from 1955 to 1972 — with the Pittsburgh Pirates. During that time, he racked up 3,000 career hits, becoming one of a small handful of players ever to reach that bar. He won the World Series twice, in 1960 and 1971, earning the MVP Award in 1971.
In his off time, Clemente devoted himself charity work in the Caribbean and Latin America. When a massive earthquake hit Nicuaraga in late December 1972, Clemente boarded a plane intending to deliver aid to the victims. Unfortunately, the craft crashed off the coast of Puerto Rico, and Clemente died on December 31, 1972 at the age of 38. He was posthumously inducted into the Hall of Fame in 1973.
According to THR, Legendary CEO Thomas Tull has taken a special interest in Clemente's story. Tull is a massive sports fan who serves on the board of the National Baseball Hall of Fame and Museum. (He's also part owner of the Pittsburgh Steelers football team, but that's less relevant here.) Tull previously produced Legendary's other baseball biopic, 42.
The Roberto Clemente movie is still in the early stages, with no screenwriter, stars, or director attached. No start date or release date has been announced as of yet.