'Mission: Impossible - Rogue Nation' Trailer #2: Tom Cruise Battles The Anti-IMF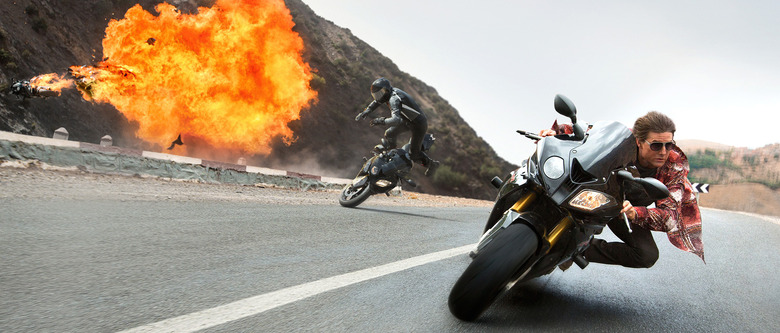 Ethan Hunt (Tom Cruise) and his friends are back in the latest trailer for Mission: Impossible – Rogue Nation. Directed by Chris McQuarrie, the new movie has Ethan going on the run after he's disavowed by the government (again), while grappling with a mysterious enemy (again). The plane stunt, though? That's all new. Watch the new Mission Impossible Rogue Nation trailer after the jump.
Paramount unveiled the latest Mission Impossible Rogue Nation trailer on YouTube.
As usual, Mission: Impossible – Rogue Nation is saddled with a complicated plot that's really just an excuse for Tom Cruise and his co-stars to embark on some more jaw-dropping, heart-pounding, death-defying stunts.
In this installment, the IMF is dissolved by the government. "It's not just a rogue organization, it is a disgraced one," argues one cranky CIA chief (Alec Baldwin). Any IMF agents still trying to do their IMF thing are now wanted by the CIA.
(In fairness to the U.S. government, chaos does tend to follow the IMF. Enough chaos to sustain five films, each one crazier than the last. If I were part of the CIA, I might want to dismantle the IMF, too.)
Meanwhile, our IMF heroes are also facing a shadowy threat known as the Syndicate, "a rogue nation trained to do what we do," as one IMF agent puts it. Or, as Benji explains more succinctly, "an anti-IMF."
But as I said, the zigzagging storyline isn't what's important. Mission: Impossible – Rogue Nation promises what looks like Cruise's most insane stunt yet. The bit at the end where Ethan Hunt is hanging off the airplane? Yeah, it's not greenscreen. And if Cruise is willing to strap himself outside a moving airplane at 5,000 feet for our entertainment, the least we can do is agree to watch.
Mission: Impossible – Rogue Nation opens July 31, 2015. Simon Pegg, Jeremy Renner, Rebecca Ferguson, Sean Harris, and Ving Rhames also star.