First 'Late Show With Stephen Colbert' Teaser Shaves The Majestic "Colbeard"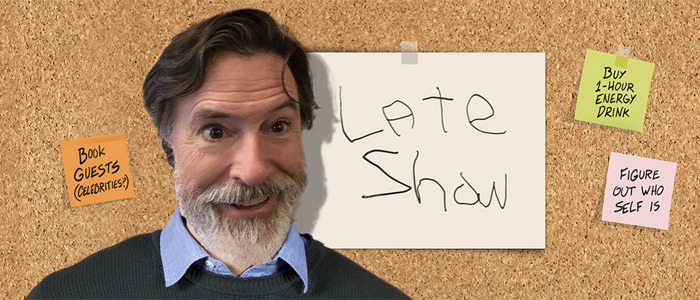 Just last month, David Letterman bid farewell to The Late Show on CBS, a program he helped make a comedic institution. And this fall, former Comedy Central political satirist Stephen Colbert will get behind the desk on the late night talk show.
Since leaving behind The Colbert Report, the comedian has been rather busy elsewhere, and he even grew a magnificent beard, biding his time until he invades the late night circuit. But now the hype machine for The Late Show with Stephen Colbert has officially begun with the first teaser arriving today. And if you've come to enjoy the host's facial hair that lovingly became known as "The Colbeard," you might want to sit down before watching this video.
Watch the teaser for The Late Show with Stephen Colbert after the jump!
And here's the official Twitter account of the show kicking things off:
Official "The Late Show with Stephen Colbert" Twitter Account Launches to Enthusiastic Audience of Nobody Yet!

— The Late Show (@colbertlateshow) June 3, 2015
In the beginning of this video, Colbert almost looks like a younger George Lucas stunt double. It's a shame to see such a beautiful beard go away piece-by-piece, especially after seeing how useful it is in holding plastic forks after using them to eat a hot dog in a bun. But as you can see in the video, it's all Tom Selleck's fault. (Or at least the fault of his bitchy mustache). Still, it's pretty amusing to see Colbert take on various personalities as he slowly gets rid of The Colbeard.
For what it's worth, this is a really fun way to tease The Late Show with Stephen Colbert. Non-fans are able to see that Colbert has comedic value outside of skewering politics, and fans still get the Colbert they fell in love with before. Plus, if you look at his white board in the background, you"ll see that he has some pretty lengthy notes for The Late Show:
Bold things seem to be in store for this new iteration of The Late Show, and it's good to know that he's at least figured out the beard portion of this list. Speaking of bold things, is anyone else surprised that Colbert says "shit" in this video? That's not a word usually allowed on network television, and I'm surprised CBS let is slide in this first official video promoting the show, even if it is on the uncensored internet. Surely that won't be allowed on the air.
The only question I have left is how do we get a subscription to Homeless Sea Captain monthly? Check out the official website for The Late Show with Stephen Colbert for more.