Channing Tatum Dresses As A Creepy Old Guy And Surprises Magic Mike Fans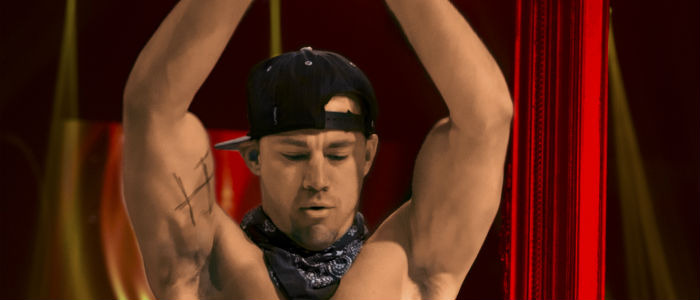 Channing Tatum just seems like an awesome dude. I've interviewed him a few times, on the sets of 22 Jump Street and White House Down, and he genuinely is the person you'd expect him to be. Funny, kind, passionate, and totally humble about just how famous he's become. A great example of this is a new viral video he's part of by Omaze. That's the company who creates amazing experiences for fans why buy a chance for a small charitable donation. They're worked with Star Wars and others and their latest one will give fans a chance to attend the premiere of Magic Mike XXL with Tatum.
So how to promote it? Well, Tatum was made up as an old man at an early screening of Magic Mike XXL, interviewed the fans in disguise, then surprised them by revealing himself. The Magic Mike XXL contest video is below and it's a whole lot of fun.
Thanks to OMAZE for this video. Click that link to enter the actual contest.
Omaze Magic Mike XXL Contest Video
What's funny to me about this video is that I know this theater. It's a popular screening room in Beverly Hills which is very small, secluded, and comfortable. And there's free candy. I've never seen it get as crazy as it is in this video.
Another note: you have to think 50% of the people Tatum interviewed in makeup guessed who he was and were cut out of the clip, right? It's incredibly good make-up but you're at a screening of Magic Mike XXL and an old man who bears a vague resemblance to the film's star and co-writer asks you awkward questions about it, on camera? My Spider-sense would be tingling.
Anyway, Magic Mike XXL opens July 1. Here's the plot description:
Picking up the story three years after Mike bowed out of the stripper life at the top of his game, "Magic Mike XXL" finds the remaining Kings of Tampa likewise ready to throw in the towel. But they want to do it their way: burning down the house in one last blow-out performance in Myrtle Beach, and with legendary headliner Magic Mike sharing the spotlight with them. On the road to their final show, with whistle stops in Jacksonville and Savannah to renew old acquaintances and make new friends, Mike and the guys learn some new moves and shake off the past in surprising ways.