Cool Stuff: This Life-Size R2-D2 Fridge Will Bring Cold Blue Milk Straight To You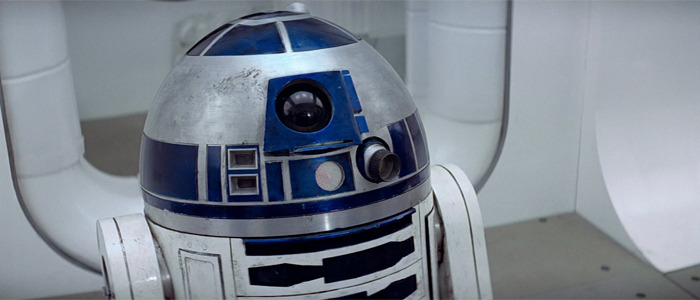 We live in pretty cushy times, where cold drinks and food just sit in a chilled cabinet called a refrigerator, just waiting for us to consume them. But as soon as you need your thirst quenched or hunger satisfied, you have to get up and walk a few feet to the fridge in order to get the goods. That is until now.
While we're used to seeing Kenny Baker inside R2-D2, Japanese company Haier Asia and their AQUA brand have decided to put some ice cold drinks inside the Star Wars astromech droid. Yes, we're talking about an R2-D2 refrigerator, which is the same size as the real droid. But what makes these little guy even sweeter is that it's a remote controlled fridge that will bring your drinks to you.
Check out this remote controlled R2-D2 fridge after the jump.
Here's the unveiling of the R2-D2 fridge at an AQUA event in Japan from IT Media (via Toyland):
The mini-fridge will be available sometime in 2016, though a price has yet to be determined, which means it will probably be very expensive. Not only is it a full-size min-fridge, but it's an authentic recreation of R2-D2, right down to the lights, sounds and movement. It's also rechargeable, so you won't have to spend a fortune on giant batteries. However, the only downside is that it holds just a dozen regular-sized cans, so you'll end up having to get up off your ass and fill it back up at some point. Life is hard, right?
This isn't the first time R2-D2 has been turned into a mini-fridge, since we featured one all the way back in 2008. But this is much more sophisticated, if you'll allow me to use that word to describe a robot from a movie being turned into an appliance. R2-D2 has been turned into plenty of other things too, like a projector, a bathing suit, an ice bucket, and even a plane. Who knows what fans will turn him into next?
All I know is that if we're getting an R2-D2 fridge, then BB-8 better better get some kind of mod that brings us snacks. Why have these droids helping our heroes in a galaxy far, far away when they can just bring us food and drinks? This is America after all.