'Sister Act' Remake In The Works At Disney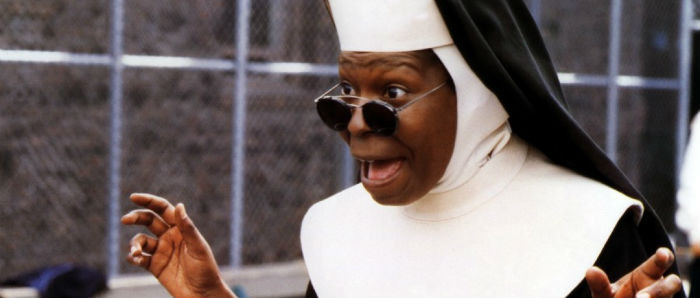 Imagine we're inside a secret Hollywood office building. "Okay, so we've got The Fugitive, The Craft and Big Trouble in Little China remakes on the way. What's next on the list?" "Um, let me see....Sister Act." "Wait, we're going to remake Sister Act? Do people even remember Sister Act?" "No, they mostly remember Sister Act 2: Back in the Habit because it's never not on TV, but hey, we're out of ideas and it's next on the list." "Okay – tell Disney it's their turn."
Yes, Disney is working on a remake to Sister Act. Read more below.
The Hollywood Reporter broke the news of the Sister Act remake. Kirsten "Kiwi" Smith and Karen McCullah – who wrote Legally Blonde, 10 Things I Hate About You and She's the Man – have been tapped to write and Alli Shearmur, who produced Cinderella, is overseeing.
They don't know if Whoopi Goldberg, who starred in the 1992 original hit (which grossed over $200 million worldwide) and 1993 sequel (which did not), will return. It wouldn't really make sense though because the character's whole story is based on surprise. The original film was about a Vegas showgirl who goes into protective custody as a nun when the mob tries to kill her. You'd have to imagine a remake would just redo that story with some modern sensibilities. If anything, maybe Goldberg shows up in a cameo role as someone else, but it's currently unknown.
I honestly liked the Sister Act movies as a kid. They were funny, they were different, I could watch them with my Mom. A remake isn't the worst idea ever, especially because the films haven't stayed particularly relevant like other films from the early Nineties. There's a good chance there's a whole generation (or two) out there who don't know much about Sister Act at all, and would gladly go see a funny movie about a showgirl posing as a nun.
What do you think about the Sister Act remake?