Jennifer Lawrence Shares 'The Hunger Games: Mockingjay - Part 2' First Look; Trailer Coming Next Week?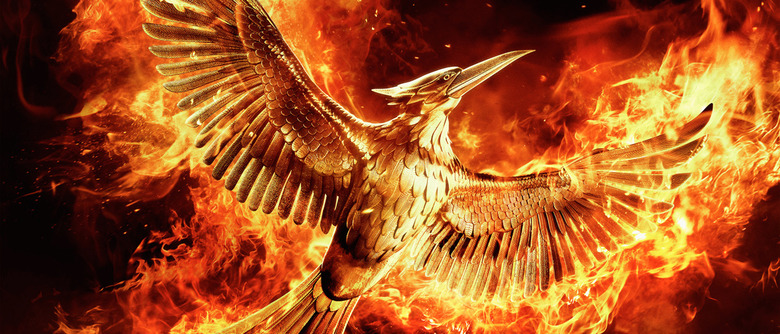 The first The Hunger Games: Mockingjay – Part 2 poster hinted at a brutal end for the villainous President Snow. But Katniss and the rebels still have a lot more work to do before they can deliver that final blow.
In the first image from the film Katniss and a few of her trusted comrades are armed and suited for battle. And as for when we'll get to see even more of the highly anticipated sequel, it seems we've got a little something coming our way next week. Get your The Hunger Games: Mockingjay Part 2 first look after the jump.
Star Jennifer Lawrence shared the Hunger Games: Mockingjay Part 2 first look photo on Facebook. The context isn't entirely clear, but it looks like Katniss and company are in a war zone. She looks ready for a fight, trusty bow in hand. Gale (Liam Hemsworth) and Messalla (Evan Ross) are holding guns, and Finnick (Sam Claflin) is wielding his spear.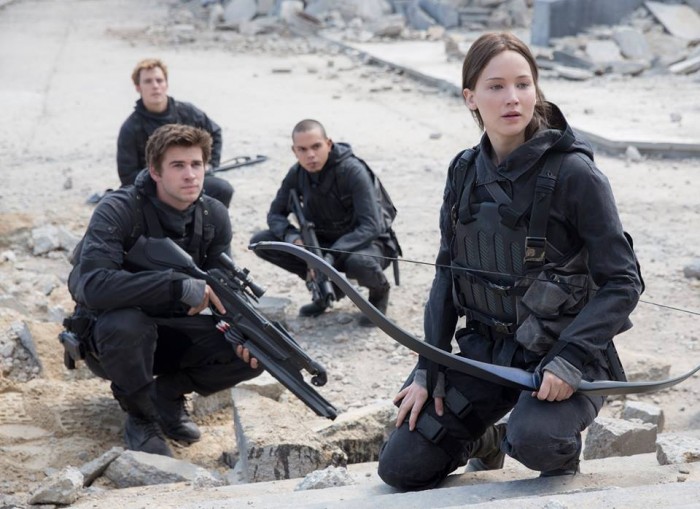 Possibly even more intriguing than the photo itself is the caption posted with it: "6.9.15 #MockingjayPart2 #Unite." Lawrence doesn't say what exactly is happening on June 9, but one likely guess is the first trailer release.
The Hunger Games: Mockingjay – Part 2 brings the thrilling dystopian saga, based on the novels by Suzanne Collins, to an end on November 20. Francis Lawrence directs.
With the nation of Panem in a full scale war, Katniss confronts President Snow (Donald Sutherland) in the final showdown. Teamed with a group of her closest friends – including Gale (Liam Hemsworth), Finnick (Sam Claflin), and Peeta (Josh Hutcherson) – Katniss goes off on a mission with the unit from District 13 as they risk their lives to stage an assassination attempt on President Snow who has become increasingly obsessed with destroying her. The mortal traps, enemies, and moral choices that await Katniss will challenge her more than any arena she faced in The Hunger Games.
THE HUNGER GAMES: MOCKINGJAY – PART 2 stars Jennifer Lawrence, Josh Hutcherson, Liam Hemsworth, Woody Harrelson, Elizabeth Banks, Julianne Moore, Philip Seymour Hoffman, Jeffrey Wright, Willow Shields, Sam Claflin, Jena Malone, Natalie Dormer, with Stanley Tucci, and Donald Sutherland. THE HUNGER GAMES: MOCKINGJAY – PART 2 is directed by Francis Lawrence from a screenplay by Peter Craig and Danny Strong and produced by Nina Jacobson's Color Force in tandem with producer Jon Kilik. The novel on which the film is based is the third in a trilogy written by Suzanne Collins that has over 65 million copies in print in the U.S. alone.