'Tangled' TV Series Coming To Disney Channel In 2017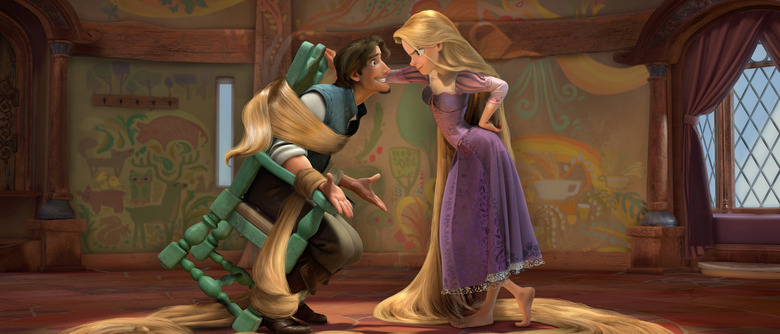 Rapunzel is climbing back down to the small screen. A Tangled TV series is coming to Disney Channel in 2017, with Mandy Moore and Zachary Levi set to reprise their roles as Rapunzel and Eugene (a.k.a. Flynn Rider). Get all the details on the Tangled TV series after the jump. 
Variety reports the Tangled TV series will take place in between the events of the original 2010 film, and the 2012 sequel short Tangled Ever After. The latter debuted in theaters with the 3D re-release of Beauty and the Beast in January 2012, and then made its way to the Disney Channel in March 2012 with the TV premiere of The Princess and the Frog.
In the new Tangled TV series, Rapunzel has just discovered her true identity, and is getting reacquainted with her family and her royal position. Realizing that she has much to learn before she can take her rightful place as the princess of Corona, she goes against her father's wishes and sets aside her wedding and her crown.
Instead, Rapunzel embarks on some new adventures. Eugene comes along for the ride, as do Pascal (the chameleon), Maximus (the horse), the Snuggly Duckling Pub Thugs, and a new character named Cassandra, described as "a tough-as-nails handmaiden."
Alan Menken and Glenn Slater, who wrote the music and lyrics, respectively, for Tangled, will reunite for the show. Chris Sonnenburg (Enchanted) and Shane Prigmore (The Lego Movie) are developing the Tangled TV series, which is being produced by Disney Television Animation.
Said Gary Marsh, president and CCO of Disney Channels Worldwide:
The genius of the original movie was its seamless blending of cinematic adventure, character-driven comedy and touching emotion. With the addition of Chris and Shane as executive producers, we have the perfect team in place to create a series worthy of the original film.
The original Tangled was a big hit, raking in $591 million worldwide. It also won a Grammy nomination and earned an Oscar nomination for the song "I See the Light." According to Disney, Rapunzel has become one of the top-selling princesses at the Disney Store. Earlier this spring, Disney announced plans to keep the franchise going with a stage musical to debut on Disney Cruises in November.
Both Levi and Moore are coming off of other TV roles. He stars in the upcoming NBC limited series Heroes Reborn, while she had a recurring role on ABC's now-cancelled drama Red Band Society.