'Community' Could Get Another Season On Yahoo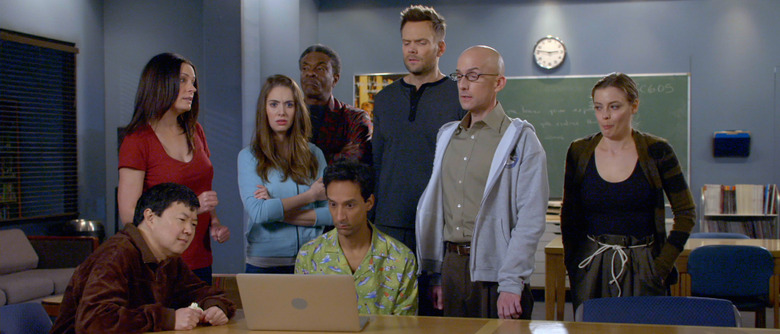 Six seasons and... another season? Community served up its Season 6 finale this week, but a new report indicates Yahoo is already in discussions about a possible Season 7. Find out what may or may not be happening with Community Season 7 after the jump. 
To be clear, no official announcements have been made about Community's fate. However, Deadline has heard that conversations between Yahoo and Sony Pictures TV, about potentially making more Community episodes, are ongoing. Certainly this statement from a Yahoo spokesperson leaves the open the possibility of further adventures for the Greendale gang:
With the season six finale of Community airing today, we're continually excited by how much fans are engaging with the series. Now that all episodes are available for binge viewing, stay tuned for how we keep Community delighting its fans.
Whatever happens with Community Season 7, it's frankly a minor miracle that the show has even gotten this far. Community debuted on NBC in 2009 to strong reviews and weak viewership. It spent five seasons struggling in the ratings (including one season without series creator Dan Harmon) before NBC finally axed it last year.
But Yahoo swooped in to save it, as part of a push to step up its original programming game. Community's 13-episode sixth season debuted on Yahoo this past March, and has been heralded by some critics as a return to form. Community Season 6 wrapped up earlier this week with a season finale that many noted felt like a series finale.
If Yahoo does decide to order a seventh season of Community, it may face some hurdles. Stars Gillian Jacobs and Ken Jeong both have new shows coming up — Jacobs has Judd Apatow's Love on Netflix, Jeong has Dr. Ken on ABC.
Alternatively, Yahoo could decide to continue Community with a feature film. The rallying cry is "six seasons and a movie," after all. For his part, Joel McHale says he's up for it. "I think we will do a movie if Dan will write the script," he told Conan O'Brien earlier this week.
And Harmon seems tentatively optimistic as well. "Yahoo seems down for just about anything," he said at SXSW, joking, "I don't know why they'd turn their nose up to a movie about a low-rated show. They seem to be very naive."
Would you prefer to see a Community movie or a Community Season 7? Or do you think it's time we just put this show to rest once and for all?