Cameron Crowe Is Sorry He Cast Emma Stone As An Asian Person In 'Aloha'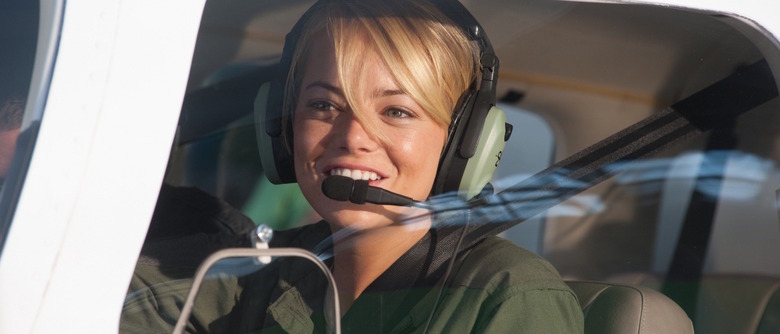 As if the reviews for Aloha weren't bad enough, Cameron Crowe's new film has also come under fire featuring noted white person Emma Stone as half-Asian character Allison Ng. Now the director himself is responding to his critics, offering "a heartfelt apology" for his peculiar casting choice. Read Crowe's comments on the Aloha race controversy after the jump. 
Crowe took to his own website, The Uncool, to address the Aloha race controversy:
Thank you so much for all the impassioned comments regarding the casting of the wonderful Emma Stone in the part of Allison Ng. I have heard your words and your disappointment, and I offer you a heart-felt apology to all who felt this was an odd or misguided casting choice. As far back as 2007, Captain Allison Ng was written to be a super-proud ¼ Hawaiian who was frustrated that, by all outward appearances, she looked nothing like one. A half-Chinese father was meant to show the surprising mix of cultures often prevalent in Hawaii. Extremely proud of her unlikely heritage, she feels personally compelled to over-explain every chance she gets. The character was based on a real-life, red-headed local who did just that.
The idea behind Allison Ng makes sense. There are lots of part-Asian people who don't necessarily "look" Asian, and the disconnect between someone's outward appearance and their actual ethnic and cultural background could serve as the basis for an interesting story.
However, casting Stone, who as far as we know is zero percent Asian, was not the way to tell that story. Films featuring Asian or part-Asian characters are rare enough as it is in Hollywood. It's frustrating to see that on one of the few occasions where we do see a major character of Asian descent, she's played by a white actress.
Continuing on, Crowe pointed out that there were plenty of Asian people behind the camera, even if there weren't enough of them in front of it:
However I am so proud that in the same movie, we employed many Asian-American, Native-Hawaiian and Pacific-Islanders, both before and behind the camera... including Dennis "Bumpy" Kanahele, and his village, and many other locals who worked closely in our crew and with our script to help ensure authenticity. [...] We were extremely proud to present the island, the locals and the film community with many jobs for over four months.
And, to his credit, he took responsibility for the casting choice:
Emma Stone was chief among those who did tireless research, and if any part of her fine characterization has caused consternation and controversy, I am the one to blame.
Crowe wrapped up by declaring his intention to tell more diverse stories:
I am grateful for the dialogue. And from the many voices, loud and small, I have learned something very inspiring. So many of us are hungry for stories with more racial diversity, more truth in representation, and I am anxious to help tell those stories in the future.
Hopefully he'll put his money where his mouth is. It's just too bad he didn't have this epiphany a few years ago, before he stared shooting Aloha. Hawaii, which was only 25% white as of the last census, would have been the perfect place for Crowe to start telling "stories with more racial diversity."