New 'Ted 2' Red Band Trailer Spoofs 'Star Wars: The Force Awakens'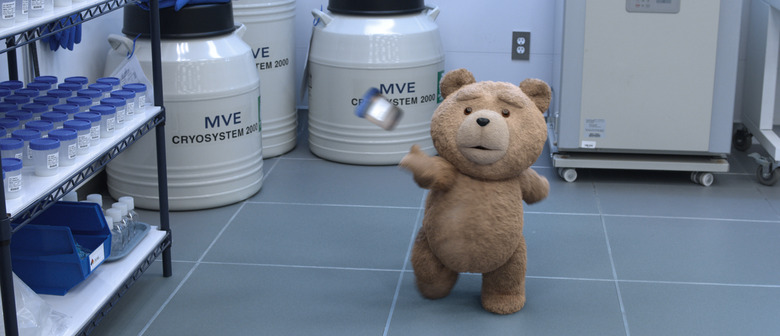 Seth MacFarlane's comedy is at its best when there are no boundaries whatsoever. Which is why the red band trailer is his bread and butter. You never quite know what a MacFarlane film is until you see the red band.
We've already seen one red band trailer for Ted 2 and now a new Ted 2 Red Band trailer is out. This one is incredibly economical, as it starts with a familiar sci-fi spoof on a popular trailer, and then packs as many F-bomb and drug jokes as possible into the next 70 seconds. The sequel stars Mark Wahlberg, Amanda Seyfried, Morgan Freeman and opens June 26. Watch the new Ted 2 red band trailer below.
Thanks to AMC for the trailer.
New Ted 2 Red Band Trailer
In Ted 2, Ted wants to get married but isn't considered human. So he sues for his civil rights to be recognized as a person.
Honestly, even though I'm a fan of the first film, the fact it came out of nowhere really helped it. Now, people know what to expect from Ted 2. Will MacFarlane deliver something new and surprising? Or will it fall into the dreaded comedy sequel abyss? We'll find out later this month.
This trailer was more promising than the last one, at least. The new footage of Ted with the gun in the car seems to show that in the sequel, the characters will get out of the comfort zone a bit more. That's a positive.
Here's the official description of Ted 2:
Seth MacFarlane returns as writer, director and voice star of Ted 2, Universal and Media Rights Capital's follow-up to the highest-grossing original R-rated comedy of all time.  Joined once again by star Mark Wahlberg and fellow Ted writers Alec Sulkin & Wellesley Wild, MacFarlane produces the live action/CG-animated comedy alongside Bluegrass Films' Scott Stuber, as well as John Jacobs and Jason Clark.