Clint Eastwood Directing Biopic On Miracle On The Hudson Pilot Sully Sullenberger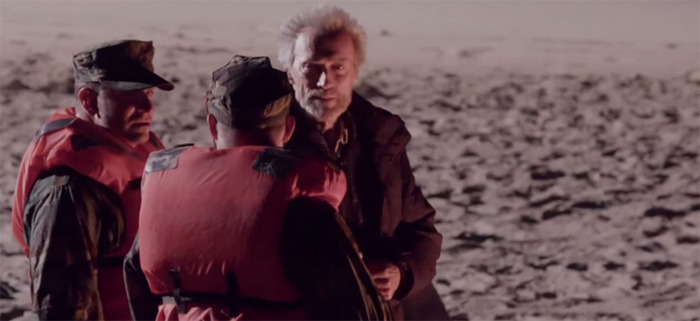 By the time his next film is in the can, Clint Eastwood will a string of four consecutive films to make a very strange biopic quartet. The films will cover the lives of men from a variety of pursuits in American and abroad: there are already movies about J. Edgar Hoover, Frankie Valli and the Four Seasons, and sniper Chris Kyle. Now, Eastwood will profile Hudson River hero Captain Chesley "Sully" Sullenberger. Sully, the subject of a just-announced project from Eastwood, was hailed as a hero when he saved 155 lives by safely landing a crippled jet on the Hudson River.
Deadline reports that Eastwood's film will be based on the script by Todd Komarnicki, which in turn is an adaptation of the book Highest Duty: My Search for What Really Matters, written by Sullenberger and Jeffrey Zaslow.
We don't know the precise thrust of the script, and whether or not the story will factor in things outside Sully's tale, like the media reception to the story, and the direction his life took afterward.
Here's copy about the book:
The inspirational New York Times bestselling autobiography of a true American hero, in Highest Duty Capt. Chesley "Sully" Sullenberger—the pilot who miraculously landed a crippled US Airways Flight 1549 in New York's Hudson River, saving the lives of all 155 passengers—shares his thoughts on leadership, responsibility, and service along with his riveting life story. Written with Jeffrey Zaslow, coauthor of The Last Lecture with Randy Pausch, Highest Duty is a remarkable true-life story that the Washington Times says, "Screams to be required reading for all young people, or anybody else who needs confirmation that courage, dignity and extraordinary competence can still be found in this land."
Actually, thinking about it, almost everything Eastwood has done since the 2006 release Flags of Our Fathers has had a basis in real stories, with the possible exception of Gran Turino. (Which is probably an unwitting biopic of someone in your family.) Even The Hereafter factors in the Indian Ocean tsunami from 2004. At this point it would be stranger to see him do a film that wasn't based in reality in some way.