Stephen King's 'Dark Tower' Directed By Nikolaj Arcel To Hit Theaters In January 2017 [Updated]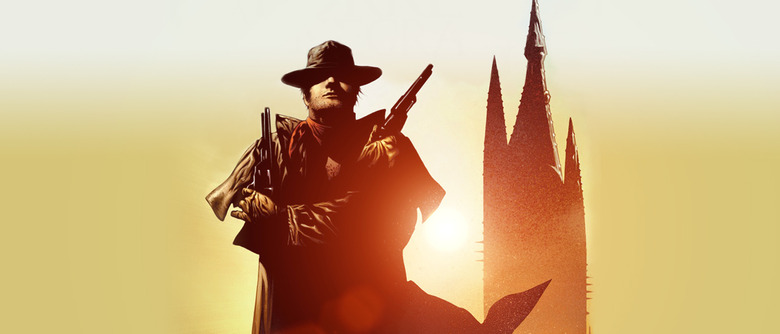 Update From Editor Peter Sciretta: Sony has officially announced they will be releasing Stephen King's Dark Tower directed by Nikolaj Arcel on January 13th 2017. The film is scheduled to go head to head with Fox's animated film Boss Baby and Lionsgate's Power Rangers movie.
The original story by Angie Han from June 2nd 2015 follows:
After many years of difficult development, The Dark Tower is about to take a big step forward. The Girl With the Dragon Tattoo co-writer Nikolaj Arcel has reportedly emerged as the top choice to direct the Stephen King adaptation. Ron Howard and Stephen King are producing. Get details on the potential Dark Tower Nikolaj Arcel hire below.
Deadline broke the news that Arcel is about to enter talks to direct and rewrite The Dark Tower. Arcel is reportedly a huge fan of King's The Dark Tower book series, and really just King in general. Apparently he even taught himself English so he could appreciate King's books in their original language. Sony, in turn, likes that Arcel is a big Stephen King fan, and that he's comfortable with dark material.
Efforts to adapt King's The Dark Tower have been going on for years, first at Universal and then at Warner Bros. Earlier this year, Sony climbed on board and set the project on the fast track.
The Dark Tower centers around gunslinger Roland Deschain, who lives in a world reminiscent of the Old West but with magic. Roland embarks on a quest to find the titular Dark Tower, supposedly the nexus of all universes.
The current plan is to turn The Dark Tower into an interlocking TV and film franchise — specifically, a film series with an accompanying TV series. Arcel would be directing the first Dark Tower film. It'll be based on the first Dark Tower book, The Gunslinger, and center on Roland's relationship with his protégé Jake Chambers.
Akiva Goldsman and Jeff Pinkner wrote the most recent draft of the Dark Tower script. Goldsman is also producing along with King, Howard, and Brian Grazer, and Pinkner serves as executive producer with Erica Huggins.
Arcel is best known in the U.S. for scripting (with Rasmus Heisterberg) the Swedish adaptation of The Girl With the Dragon Tattoo, and for directing the Best Foreign Film Oscar nominee A Royal Affair. He has two other literary adaptations on his to-do list right now, Don Winslow's The Power of the Dog and Daphne du Maurier's Rebecca.
Once Arcel is set, the next step will be casting. Actors like Javier Bardem and Russell Crowe have flirted with The Dark Tower lead at various points, but any attachments fell away when the project moved over to Sony.