'Star Wars' Companion Short 'Black Angel' To Become Feature Film Starring Rutger Hauer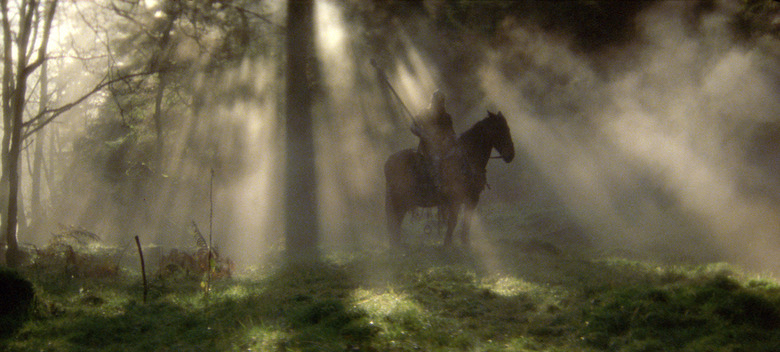 As Star Wars prepares to mount a big-screen comeback, so does Black Angel, the "lost" short that debuted in front of Star Wars: The Empire Strikes Back in 1980. A Black Angel feature film is now in the works, with Roger Christian back to write and direct and Rutger Hauer and John Rhys-Davies set to star. Learn all about the Black Angel feature film after the jump. 
THR spoke with Christian about his new endeavor. "It's my passion project, has been for 35-36 years," he said. "I guess 'patience is a virtue' is a true saying." Christian has launched a $100,000 Indiegogo campaign to help fund Black Angel. Prizes include a walk-on role, on-set experience, and — most intriguing of all — a piece of the film negative from Star Wars: A New Hope.
Lucas commissioned the original Black Angel short film to play as a companion piece with Star Wars: The Empire Strikes Back in some markets. It was well received and became a major influence on fantasy films that followed. But shortly after its premiere, all copies of the film were lost.
... Or so everyone believed until 2011, when a Universal Studios archivist came across a negative. An effort to restore the film got underway, and the film "re-premiered" at the Mill Valley Film Festival in 2013. Black Angel got a digital re-release in 2014, and as of last month was available to stream in its entirety on YouTube.
Shot in Scotland on a budget of £25,000, the 25-minute Black Angel short followed a medieval knight who battles the Black Angel to rescue a beautiful maiden. The Black Angel feature will have a budget of "around $15 million," and is described as follows:
Think Game of Thrones meets Valhalla Rising, Excalibur meets Lord of the Rings. A powerful tale of ancient Celtic magic and Nordic Paganism, it'll be gritty, dirty and heroic – everything great fantasy should be.
The story follows a knight as he journeys deep into the dark underworld with the daughter of a rival king, to meet the face of evil itself and fight the Black Angel in combat. Full of drama, action and heroism, pure light is pitted against eternal darkness and damnation.
Hauer, whose credits include Blade Runner and Batman Begins, will play the High Priest Sirdar. Rhys-Davies, of Lord of the Rings and Raiders of the Lost Ark fame, will play King Aeolus. Laura Weissbecker (Chinese Zodiac) will play warrior princess Kyna. More casting will be announced at a future date.
Christian was a set decorator who won an Oscar for his work on the first Star Wars. Black Angel marked his directorial debut. Since then, his credits have included Nostradamus, Battlefield Earth, and, most recently, Prisoners of the Sun.
Harald Reichebner will produce the Black Angel feature along with Sean O'Kelly, Alex Tate, and Andrew Loveday. George Lucas is not involved. The eight-week shoot will get underway later this year in Scotland, Hungary, Morocco, and Belgium.
For even more information, check out the Indiegogo campaign here.