Video Blog: How Does Dwayne Johnson's 'San Andreas' Play In 4DX?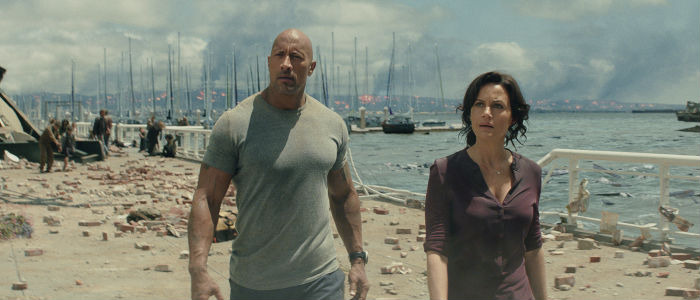 Violent shaking, swirling winds, billowing smoke, and that's just inside the movie theater. Since the opening of the United States' first 4DX theater in Los Angeles, CA last year, there really hasn't been quite as perfect a marriage of experience and material as that theater and San Andreas. Where a film like Transformers: Age of Extinction certainly works in 4DX, San Andreas is about characters being in an environment that moves around. (That being an earthquake.) So, unlike other action movies that have used the technology, it seemed like, at least on the surface, San Andreas would be the perfect film for /Film to use as our triumphant return to 4DX.
So, was it worth it? Find out in our San Andreas 4DX video blog.
To recap, 4DX is a company with multiple screens across the world, but only one in the U.S. It's at the Regal Cinemas LA Live in downtown Los Angeles, CA. The 4th "D" is for in theater effects while watching a 3D movie. So the movie is three dimensions, and then the seats rumble, swirl, move around, there's smoke, there's wind, there's water and more to try and immerse each audience member in the movie. We first tried 4DX in 2014 with Transformers: Age of Extinction and found the experience okay, but the movie too long for the format.
Fast-forward to this weekend and San Andreas. Here's our video blog with some additional thoughts below.
San Andreas 4DX Video Blog
As you can see, San Andreas in 4DX was totally worth the price of admission. I didn't say it in the video blog but at times I honestly did feel like I was on a theme park ride. The combinations of physical movement in the seats, the smells, the tiny sprays of water and strong winds, combined with the images completely worked in tandem. Now, if only the images themselves inspired anything, maybe it would have been a TRULY great experience, but that's not 4DX's fault. And maybe the movie will work better for you.
Would you like to see San Andreas in 4DX?