Eli Roth's 'The Green Inferno' Hits US Theaters In September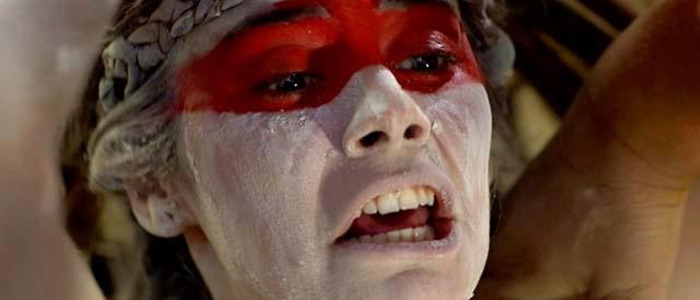 Eli Roth's film The Green Inferno — a lurid and very violent expedition deep into South American jungle which leaves a bunch of inexperienced college-age activists in a very bad place — has a new home, and will finally come to theaters in the US. The new initiative called BH Tilt, an offshoot of Blumhouse Productions, will release the film this fall. BH Tilt is being called a label "dedicated to creating tailored distribution strategies for genre films," and the September Green Inferno release date will mark one of the company's big moves. 
September 25 is the new US date for the film.
The BH Tilt plan is an initiative that represents a partnership between a number of different companies: Blumhouse, Universal Pictures, and High Top Releasing, which the press release calls "a label dedicated to servicing high quality movies using Focus Features' distribution capabilities."
In a press release, Jason Blum said,
When we launched BH Tilt we said our goal was to be part of the continuing evolution of distribution, whether it is through changing marketing strategies, changing revenue sources or changing windows. We are excited to capitalize on new developments in distribution and marketing to bring Eli's movie to horror lovers across the country.
The film was originally going to be released in September of last year. When problems with the company that financed the film, Worldview Entertainment, caused the movie to be taken off Open Road's 2014 schedule, we didn't know how the release would work out. This is a better outcome for all involved than we expected.
There is a trailer for the film, but when that 2014 release date was killed off, that trailer became obsolete. You can see it here for the time being, and we'll run whatever new one Blumhouse comes up with.
In The Green Inferno, a group of student activists travels to the Amazon to save the rain forest and soon discover that they are not alone, and that no good deed goes unpunished.
Here's an announcement of the deal originally published to Facebook:
BREAKING: The Green Inferno IS COMING SEPTEMBER 25TH! Saved by Blumhouse Productions, COMMENT AND SHARE with your excitement! Thank you everyone for your unending support, it helped save this movie!!

Posted by Eli Roth on Monday, June 1, 2015