Star Wars Bits: 'Rogue One' Seeks Science Help, Carrie Fisher Autograph, Lando And 'Aftermath'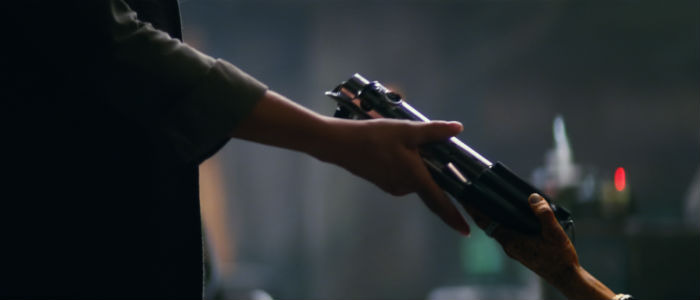 There's lots of fun stuff to discuss in this edition of Star Wars Bits. Below, read about the following.
Star Wars Anthology: Rogue One writer Chris Weitz asks for the help of Neil deGrasse Tyson.
Carrie Fisher may have autographed herself into a Star Wars: The Force Awakens spoiler.
The second Star Wars Anthology film is reportedly still on track for 2018.
See a quick preview of the Lando Marvel Comic.
A new official Star Wars canon timeline has been released.
The books set between Return of the Jedi and Force Awakens will be called The Aftermath Trilogy.
Season one of Star Wars Rebels may hit Blu-ray in September.
Several European release dates for Star Wars: The Force Awakens are revealed.
How many Funko Pop figures based on The Force Awakens will there be?
John Williams is currently scoring Star Wars: The Force Awakens.
We know a little about the story of Star Wars Anthology: Rogue One, but now we know there are some science themes as well. The film's writer, Chris Weitz, took to to Twitter to throw out a hail mary to noted astrophysicist Neil deGrasse Tyson for help on the film.
Carrie Fisher (whose hand is seen above from the latest Force Awakens trailer) was at a convention in Dallas over the weekend and signed her autograph in a very curious way. Revenge of the 5th was there and here's the image.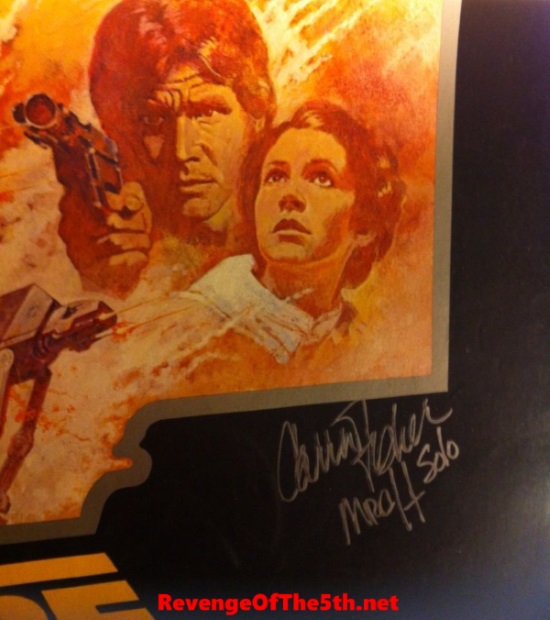 That says "Mrs. H Solo," so maybe that's a spoiler, and maybe it's not.
At a recent Brazilian Disney event, a presentation looked ahead to the future. Most of what was on there we knew but a look at 2018-2019 offered up a few surprises. First were the non-Star Wars inclusions but they also had the second Star Wars Anthology film, which is currently without a director, on the slate. That suggests it's still on track to be the fourth Star Wars film released. Then again, this still referred to it as a "Spin Off Film" and we now know that's not the official distinction. I'd be cautious, but optimistic, with this information. Thanks to Making Star Wars.
JediNews picked up the below tweet of a brand new Star Wars canon timeline, which added the video game Battlefront.
At the recent event BookCon, Marvel previewed some pages from their upcoming Lando comic which revealed that Lobot appears early on! Star Wars Underworld noticed the tweets from Stitch Kingdom, here's just one example:
Lando #1 interiors – hello, Lobot #bookcon https://t.co/ODQFFyR9XW pic.twitter.com/JWoNxtyrM2

— Stitch Kingdom has BUM WORMS (@stitchkingdom) May 30, 2015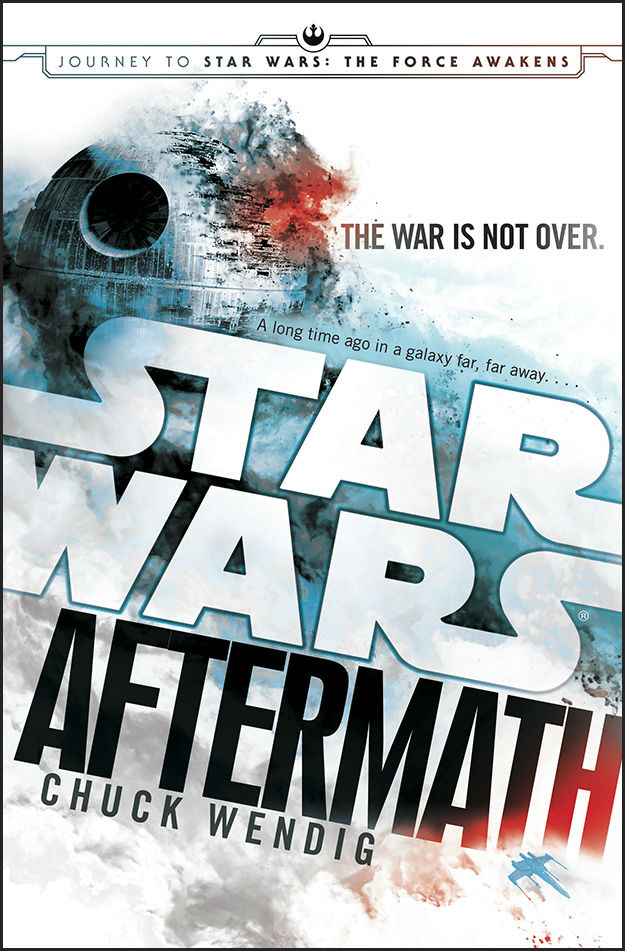 We already knew the book that will start to bridge the story from Return of the Jedi to The Force Awakens will be called Aftermath. Now we know that's also the name of the trilogy of books which will complete the story. Random House revealed it's Star Wars: The Aftermath Trilogy.
The second season of Star Wars Rebels will kick off soon with a mini-movie but fans still don't know when they'll be able to own the whole first season on Blu-ray or digital download. Well German Amazon (via Star Wars 7 News) has a listing that it'll be out on September 10. That's not yet confirmed, but seems like a good guess.
JediNews was contacted by some fans on Twitter who may know the date Star Wars: The Force Awakens opens in their countries. Sweden and Italy might get the film on December 16 while Germany, Denmark and Singapore would get it on December 17. Then Russia and Spain get it on December 25. This isn't yet official but sounds about right.
This speaks for itself, via JediNews as well.
Cool picture of a Star Wars Battlefront pre-order display at a Texas GameStop. #starwarsbattlefront #starwars #texas pic.twitter.com/3RyYkY5YgN

— Battlefront Zone (@battlefrontzne) June 1, 2015
According to ReedPop, the company who put on Star Wars Celebration, the event had 60,000 attendees.
Go to any convention, like Star Wars Celebration, and you see Funko Pop figures everywhere. Star Wars in particular is a huge brand and a site called FlyGuy (via SW Underworld) said they found twelve unique numbers for upcoming Star Wars Pop figures that are almost definitely for The Force Awakens. Twelve makes sense.
Finally, depending on when you read this, there's a chance that somewhere in a soundstage in Los Angeles, John Williams is recording the music for Star Wars: The Force Awakens. He reportedly started on Monday. Think about that.