Fox Developing '24' Spinoff About New Male Character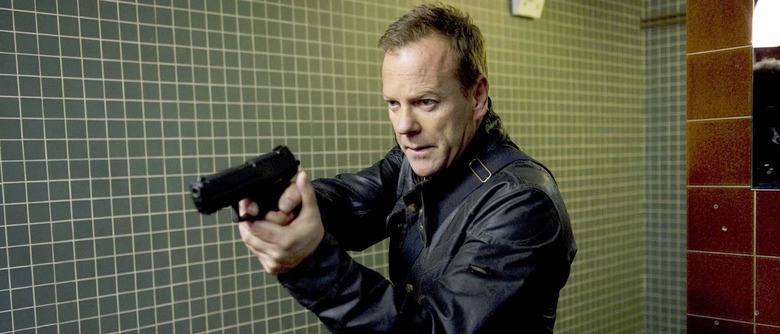 Fox is making plans for more 24. But in a (kinda, sorta, not really) shocking plot twist, the new 24 might not center around Jack Bauer.
The studio is reportedly developing a 24 spinoff that'll revolve around a new male lead. Kiefer Sutherland would appear as a guest star. More details on the possible 24 spinoff after the jump. 
TVLine got confirmation from 24 showrunner Howard Gordon that Fox is working on a 24 spinoff to follow a "twentysomething male terrorist hunter." The new antihero would be paired with an older, more experienced female agent.
24 ran for eight seasons on Fox, from 2001 through 2010. Last year Fox revived the property as a 12-episode limited series titled 24: Live Another Day, which picked up with Jack Bauer (Sutherland) four years after the events of the original TV series.
There was talk of following up 24: Live Another Day with a 24 movie, but Sutherland cast doubt on those plans last year when he told press he didn't see himself returning to the character. (Though even at the time, he admitted, "I think I said the same thing at the end of Season 8.")
Earlier this year Fox co-chairman/CEO Dana Waldman floated the idea of making more 24 without Sutherland, and Gordon reiterated those plans last month. "Evan [Katz] and Manny [Coto] are writing a script right now, which for the moment is a Jack-less 24," he said.
As of now, the plan is for Sutherland to appear as an occasional guest star. Yvonne Strahovski, who played Kate Morgan in 24: Live Another Day, might also return. To be clear, she is not the female agent mentioned above.
With Jack Bauer out of the spotlight, Gordon told Yahoo he plans to "keep it in the 24-verse" by including some familiar characters, as well as the "real-time concept" and a story that is "in the tradition of 24."
The 24 spinoff would begin as a limited series like 24: Live Another Day, but could potentially become an ongoing show if all goes well. Coto and Katz will executive produce and write.