See Wonder Woman And Aquaman In Concept Art For George Miller's 'Justice League'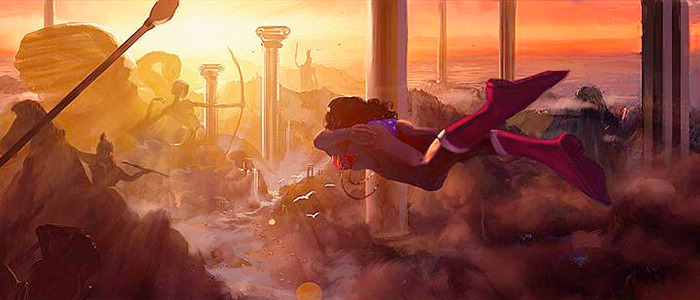 Just this past week, we learned a documentary is in the works that will chronicle the abandoned attempt by director George Miller to adapt the DC Comics superhero team Justice League for the big screen. Now the team behind the documentary is getting some buzz started for the project by revealing art via Twitter.
What claims to be the official Twitter account for the documentary, tentatively titled Miller's Justice League Mortal, has revealed three pieces of concept art created when the film was still developing several years ago. Two pieces feature Wonder Woman in action, while the other shows what Aquaman potentially could have looked like. Check out George Miller's Justice League concept art after the jump.
Here's a small gallery of images, including a photo with Miller and some of the cast members:
As you can see above, the Wonder Woman artwork features her flying through Themyscira and also flying into action by grabbing a falling race car out of the sky just outside of Max Lord's skyscraper. The Themyscira shot is just gorgeous, but without context, that second action shot just seems really peculiar. But it does show us that the working title for the movie was 7 Friends.
As for the Aquaman design, this is just one of the potential looks for the character, but this is by no means the final version of the King of Atlantis we would have seen on the big screen. However, one can't help but notice that he does somewhat look like Chris Hemsworth as Thor, but with a trident instead of Mjolnir at his side. (This film, however, was in development long before Hemsworth was cast as Thor.)
The Twitter account has only released the images above, but there's bound to be more released eventually so it couldn't hurt to follow the account and see what else is revealed. It would be cool to see some of the actors suited up as their respective characters in wardrobe tests. That would include but not be limited to Armie Hammer (Batman), D.J. Cotrona (Superman), Megan Gale (Wonder Woman), Adam Brody (The Flash) and Common (Green Lantern). But we don't know if that's something that ever happened before the project was scrapped.
The abandoned Justice League also would have featured Santiago Cabrera (Aquaman), Teresa Palmer (Talia al Ghul), Zoe Kazan (Iris Allen), Hugh Keays-Byrne (Martian Manhunter), and Jay Baruchel (Maxwell Lord). Hopefully this documentary can get all of these stars to talk about their involvement on the project so we can get a good idea of what we missed out on.
Clearly the documentary project is still coming together, but if it turns out to be anywhere near as good and fascinating as Jodorowsky's Dune, then we're in for a treat. The documentary hopes to be "an unbiased account of the project's development, preproduction and cancellation, as well as the impact on the Australian film industry." But we'll have to wait and see how that pans out. While we don't know when this doc will be done, it's a safe bet that it will arrive before Justice League Part One on November 17, 2017 and Justice League Part Two on June 14, 2019
What do you think of the abandoned Justice League concept art?