'The Talented Mr. Ripley' Goes To TV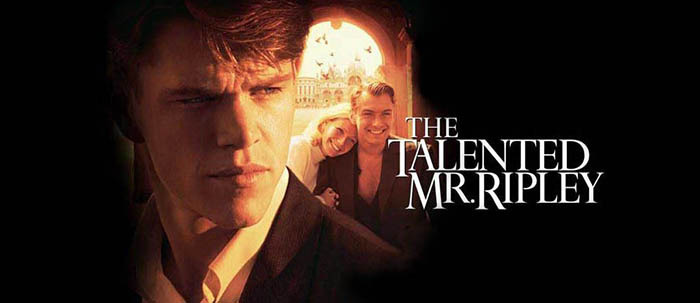 The Ripley character created by Patricia Highsmith has been the center of many films. The best-known now is probably The Talented Mr. Ripley, directed by Anthony Minghella with Matt Damon (above) in the lead role. And Rene Clement's Purple Noon is a standout that should be better known. There are actually five films all told, with five different actors in the lead. (Which is kind of appropriate in its own way.)
Now producers plan to mine Highsmith's novels once more, this time for a Talented Mr. Ripley TV series. (There's no affiliation with the Matt Damon film; we've used that image as a convenient reference point.)
THR reports that Guymon Casady (Game of Thrones) and Ben Forkner (Good People) of Television 360 will exec produce a show that, like The Talented Mr. Ripley and Purple Noon, will initially be based on the first of Highsmith's five Ripley novels. After the initial setup, the idea is to "and explore the depth, sophistication and complexity of the character of Tom Ripley."
Philipp Keel, of the late Highsmith's original publisher and agency, is also an exec producer, and Jeremy Gold will oversee for Endemol Shine Studios.
The idea is to get Ripley into the hands of a big talent on the writer/producer or director side as well as the potential acting lead, and then start taking it out to premium cable and streaming companies. It's a good plan, and I'd watch a show about Ripley's shifting allegiances, desires, and victims. TV would offer even more room to play with the situations that lead to Ripley nearly being caught, called out, or killed, and make us all squirm as he narrowly avoids the noose.