'Teenage Mutant Ninja Turtles 2' Adds WWE Star Sheamus As Rocksteady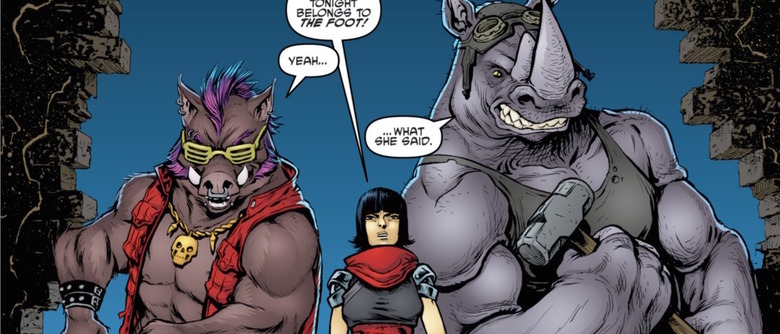 Teenage Mutant Ninja Turtles 2 found a Bebop in Gary Anthony Williams, and now it's got a Rocksteady as well. WWE superstar Sheamus has been confirmed to play the classic Ninja Turtles villain, who serves as a henchman to big bad Shredder (Brian Tee). See the first photo of our new Ninja Turtles 2 Rocksteady on set after the jump.
Sheamus (real name Stephen Farrelly) revealed his own casting, by posting a photo of himself with co-stars Williams and Tee on Twitter. The woman in the picture is Tee's wife, actress Mirelly Taylor. It's not clear if she's in the movie as well, or if she's just there to hang out with her husband.
Good night with good people in #NYC @GaryAWilliams @brian_tee @mirellytaylor pic.twitter.com/4MbwFYXltX

— Sheamus (@WWESheamus) May 28, 2015
For an even better look at the idiot twins, click over to The Daily Mail for set photos of Williams and Sheamus in costume.
Bebop and Rocksteady are most often portrayed in their mutated forms, as a warthog and a rhino respectively. However, the first set pics show them looking human, which fits with earlier reports that the characters would begin the movie as street punks belonging to a ragtag gang.
The dastardly duo were originally slated to appear in the last Teenage Mutant Ninja Turtles movie, but got cut before shooting began. They're just two of the many threats our heroes in a half shell will have to face in the new film. Shredder and his daughter Karai (Brittany Ishibashi) also appear, as will Baxter Stockman (Tyler Perry). Rumor has it Krang might drop by as well.
Although Sheamus is definitely best known as a WWE star, he's racked up some non-WWE acting credits as well including Once Upon a Time in Dublin and Rupert Wyatt's The Escapist.
Dave Green (Earth to Echo) is directing Teenage Mutant Ninja Turtles 2 from a script by Josh Appelbaum and André Nemec. Michael Bay is producing along with Brad Fuller and Andrew Form.
The Paramount action sequel stars Megan Fox as April O'Neil, Will Arnett as Vernon Fenwick, and Stephen Amell as Casey Jones. Pete Ploszek, Noel Fisher, Alan Ritchson, and Jeremy Howard return as turtles Leonardo, Michelangelo, Raphael, and Donatello.
Teenage Mutant Ninja Turtles 2 is shooting now in New York for release on June 3, 2016.