Joe Wright To Direct Survival Drama 'The Lifeboat', Starring Anne Hathaway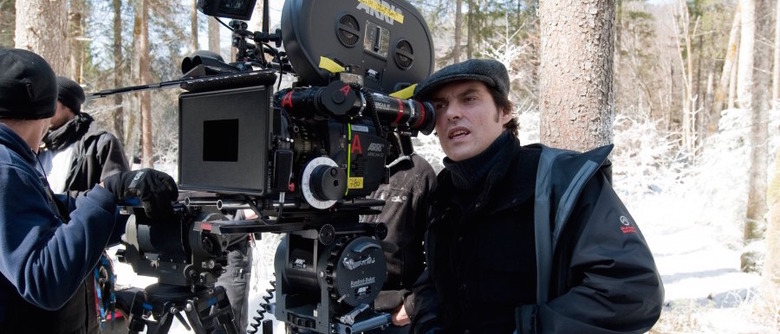 With Pan just about ready to go, Joe Wright may have found his next project. He's in talks to helm The Lifeboat, based on the novel by Charlotte Rogan.
Anne Hathaway is attached to star as a woman who finds herself in a tough situation after narrowly surviving the sinking of a transatlantic ship. Get all the details on the Joe Wright Lifeboat movie after the jump. Deadline broke the news. Working Title and Focus Features are developing The Lifeboat together. Hathaway will produce as well as star William Broyles Jr. is executive producing and will write the script. Broyles previously penned the survival dramas Cast Away and Apollo 13.
Rogan's book centers on a young newlywed and widow named Grace Winter. The novel begins with Grace on trial for murder, and then jumps back to reveal what happened.
In the summer of 1914, Grace and her husband Henry board an ocean liner heading from London to the U.S. Midway through the journey, an explosion sinks the ship in the middle of the Atlantic. Grace escapes on a lifeboat that's exceeded capacity. Over the next three weeks, those on board are forced to make impossible decisions about who gets to stay.
Wright is finishing up the Peter Pan prequel Pan, which lands in theaters this fall. His other credits include Pride and Prejudice, Atonement, Hanna, and Anna Karenina.
Hathaway was last seen in the indie drama Song One and the sci-fi epic Interstellar. Next up for her are the Nancy Meyers comedy The Intern, which opens in September, and Alice Through the Looking Glass, which opens next summer.
She was recently set for Nacho Vigalondo's "Godzilla meets Lost in Translation" movie Colossal, but that project hit a huge speed bump when Godzilla creator Toho Co. Ltd. sued for copyright infringement.
There's no word yet on when The Lifeboat might shoot, or when it might open. But with Wright yet to announce his next project, The Lifeboat could very well be it.