Watch: Disney World's Hocus Pocus Stage Show And New Merchandise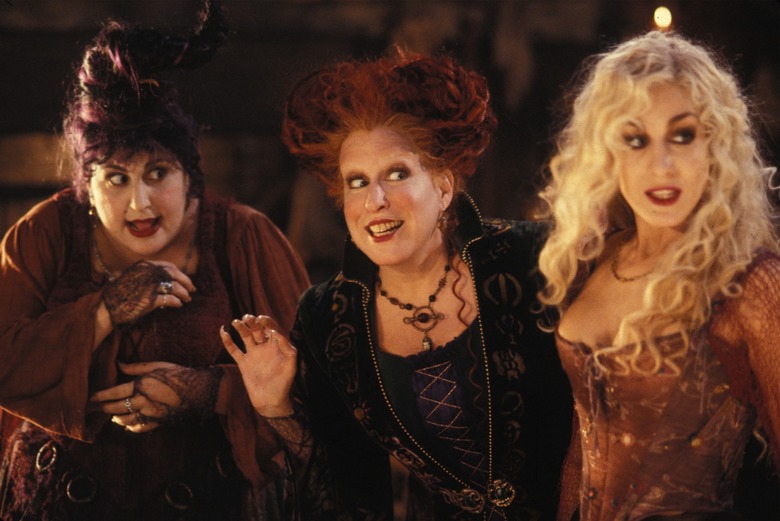 In May it was announced that a Hocus Pocus stage show was headed for Mickey's Not-So-Scary Halloween Party at Disney World's Magic Kingdom Park. Now that the party has officially begun, lets see what the Hocus Pocus Villain Spelltacular looks like, alongside new park exclusive Hocus Pocus merchandise.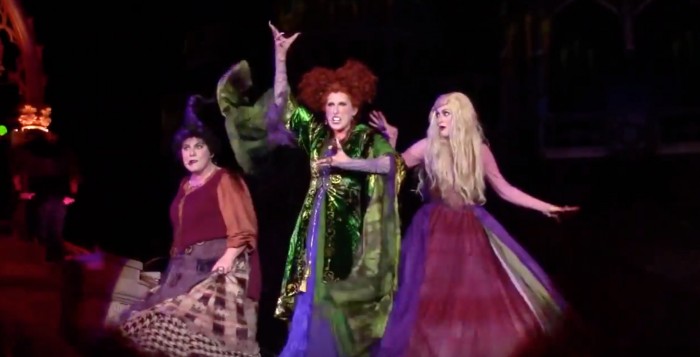 First up, our friends at InsideTheMagic have video from the opening night performance. Here is the whole 21 minute show, followed by a shorter 6 minute video of the Sanderson Sisters first appearance and their finale song.
Hocus Pocus Villain Spelltacular - Whole Show
Hocus Pocus Villain Spelltacular - Sanderson Sisters Segments
You have to admit, the Disney theme park performers almost perfectly capture these iconic 1990's characters.
And to accompany the new show, Disney is releasing a bunch of new Hocus Pocus-themed merchandise which will only be available in the theme parks, and for a limited time on the parks online store from September 21-27, 2015. Disney Design Group artist Richard Terpstra designed three costume tees that resemble the Sanderson Sisters' outfits. Each of the tees will have a "Hocus Pocus" logo on the back. According to the DisneyParks Blog, the images used on the shirts are the actual dresses from the film. Richard used high-resolution images of the costumes on loan from the Disney Archives to design these costume tees.
Richard also designed a series of short-sleeve tee, long-sleeve tee and hooded sweatshirts with a "Sanderson Sisters Witch Museum" graphic. You can order these items starting September 21 at http://www.DisneyStore.com/ParkEvents.
My original story about the Hocus Pocus stage show from May 27th 2015 follows:
With 1990's nostalgia hitting full swing, Disney isn't yet ready to greenlight that Hocus Pocus sequel that has been rumored for some time or even a Broadway Hocus Pocus musical (despite the formation of fangroups and even dreamcasting in Playbill), but they are ready to bring Winifred, Mary and Sarah together for a new Halloween stage show in Disney World. Hit the jump to learn more about the Hocus Pocus stage show and see a first piece of concept art.
Hocus Pocus Stage Show: "Hocus Pocus Villain Spelltacular" Concept Art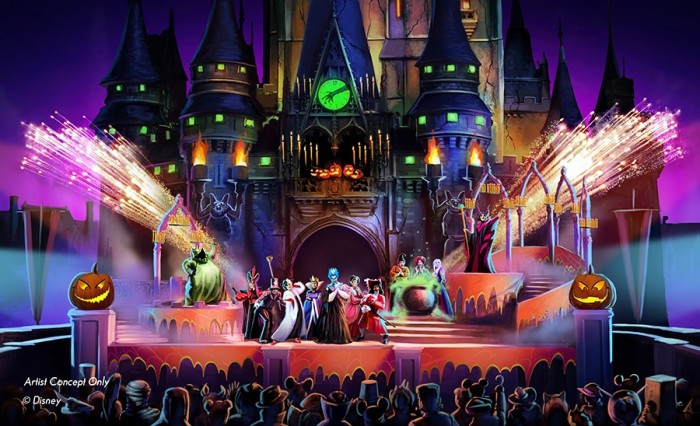 The Hocus Pocus stage show will be part of the annual Mickey's Not-So-Scary Halloween Party at Disney World's Magic Kingdom Park. The all-new show, "Hocus Pocus Villain Spelltacular", will be staged at the Castle Forecourt Stage.
The mischievous Sanderson Sisters from Disney's "Hocus Pocus" return to the mortal world for one night during the Halloween season. With only a few hours to run amuck, the three sisters decide to use their magic to throw the best, evil Halloween party this side of the graveyard! 

With the help of the Disney villains, Winifred, Mary and Sarah gather together sinister shadows, nefarious nightmares and the power of their frightful friends to conjure the ultimate Hocus Pocus Party Potion and cast a spell on everyone in the Magic Kingdom Park. "Hocus Pocus Villain Spelltacular" features appearances by Dr. Facilier, Oogie Boogie, Maleficent and other great Disney villains, along with dancers, projections and special effects that combine to make this new show a not-to-be-missed Halloween treat.
Hocus Pocus Villain Spelltacular will be presented exclusively during Mickey's Not-So-Scary Halloween Party, so if you're going to park during normal daytime hours you won't get to see it. The halloween party is held select nights at Magic Kingdom Park from September 15th 2015 to November 1st, 2015.