'Pawn Sacrifice' Trailer: Bobby Fischer Cracks Up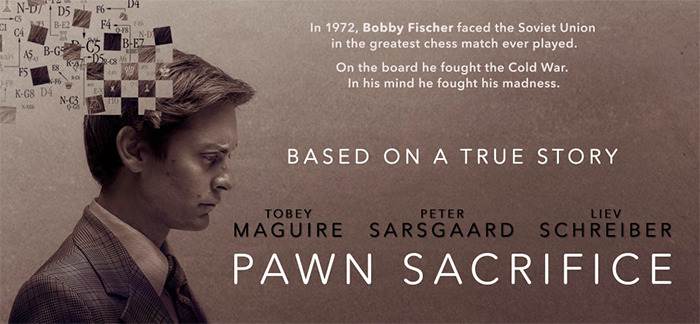 Bobby Fischer was a child chess prodigy, the youngest chess grandmaster at the time he was crowned, and eventually the representative of democracy in a politically-charged showdown with Soviet grandmaster Boris Spassky that took place in 1972. Bobby Fischer also totally lost it as he aged, becoming a Holocaust denier and anti-Semite, despite his own Jewish heritage.
Pawn Sacrifice features Tobey Maguire as Fischer and Liev Schreiber as Spassky, and is structured in a familiar "slice of history" biopic format that shows us Fischer's childhood and rise to prominence in the chess world while focusing on his duel with Spassky and his disintegrating mental state. Check out the first Pawn Sacrifice trailer below to see how Maguire plays the renowned and broken champion.
Pawn Sacrifice opens limited on September 18. Apple has the trailer. Edward Zwick (Glory, The Last Samurai) directs from a script by Steven Knight (Locke, Peaky Blinders).
In a gripping true story set during the height of the Cold War, American chess prodigy Bobby Fischer (Tobey Maguire) finds himself caught between two superpowers when he challenges the Soviet Empire. Also starring Liev Schreiber and Peter Sarsgaard, PAWN SACRIFICE chronicles Fischer's terrifying struggles with genius and madness, and the rise and fall of a kid from Brooklyn who captured the imagination of the world.