'Burying The Ex' Trailer: Joe Dante Serves Up A Zom-Rom-Com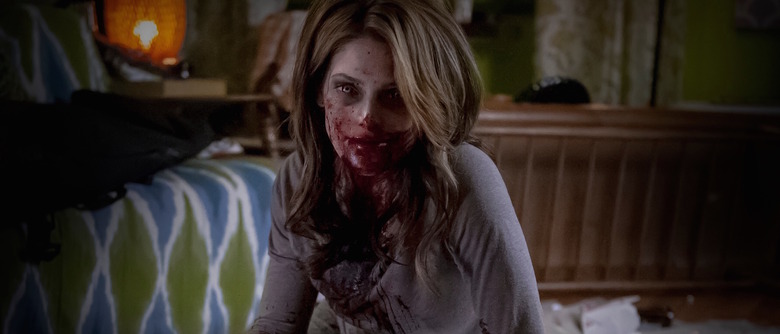 Moving on from a bad relationship is tough even under the best circumstances. It's infinitely more difficult when your ex comes back as a zombie determined to sabotage your rebound relationship and/or eat you alive. That's what happens in Burying the Ex, Joe Dante's first film since 2009's The Hole.
Anton Yelchin plays hapless Max, whose relationship with Evelyn (Ashley Greene) has gone downhill. Just as he musters up the courage to dump her, she dies in a freak accident. Max subsequently gets involved with Olivia (Alexandra Daddario), only to discover soon afterward that Evelyn's back from the dead and eager to rekindle their romance. Watch the new Burying the Ex trailer after the jump. 
Basically it's Life After Beth, except that in Burying the Ex it's the guy who was desperate to get out of the relationship, and the girl who wanted to stay together. The unfortunate timing makes Burying the Ex feel kind of stale, not unlike a corpse that's been rotting in the ground waiting for just the right moment to spring back up and terrorize its ex-boyfriend.
Burying the Ex opens June 19.
BURYING THE EX follows Max (Yelchin), an all-around nice guy, and his overbearing but incredibly beautiful girlfriend, Evelyn (Greene). Their relationship takes a nosedive after they decide to move in together and Evelyn turns out to be a controlling, manipulative nightmare. Max knows it's time to call it quits, but there's just one problem: he's terrified of breaking up with her. Fate steps in when Evelyn is involved in a freak accident and dies, leaving Max single and ready to mingle. Max eventually meets Olivia (Daddario), a cute and spirited girl who just might be his soul mate, only to learn that Evelyn has risen from her grave and is determined to get her boyfriend back... even if that means turning him into one of the undead.