'Point Break' Remake Trailer: Skydiving For Cash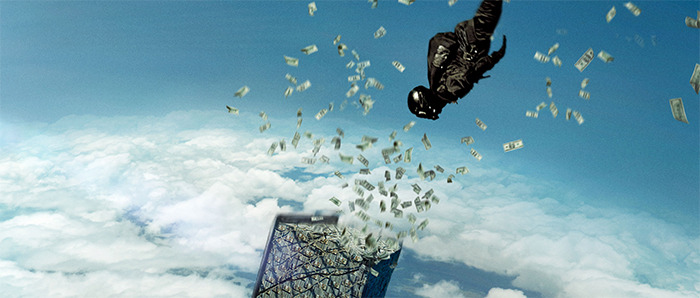 Here's your first Point Break remake trailer, showing off the new version of the 1991 movie that starred Keanu Reeves and Patrick Swayze. Point Break now features much more than surfing. Indeed, Warner Bros. trumpets that this film has "the most daring athleticism ever seen in a motion picture," with stunts "performed by elite athletes representing the world's best in class in big-wave surfing, wingsuit flying, sheer-face snowboarding, free rock climbing, and high-speed motorcycling."
But wait! There are actors in the film, too. Édgar Ramírez (Zero Dark Thirty, Carlos) stars as the daredevil criminal Bodhi, while Luke Bracey (G.I. Joe: Retaliation) is young FBI agent Johnny Utah. Ray Winstone (Noah), Teresa Palmer (Warm Bodies) and Delroy Lindo (Gone in Sixty Seconds) are in the film, too. Check out the trailer below.
The film was both shot and directed by Ericson Core (Invincible), with a huge roster of performers on hand for the film's sports and stunts. (You can find a list of all those performers below.) But will this movie inspire a scene in a future version of Hot Fuzz?
We don't know the answer to that, but Ramirez is always great to watch, and no matter how much affection you have for the original film, you'll have to admit that some of these sequences look pretty impressive. (And, OK, ridiculous.) Whether they add up to a good film is something else altogether.
Point Break opens on Christmas Day. Trailer and poster via Warner Bros.
In Alcon Entertainment's fast-paced, high-adrenaline action thriller "Point Break," a young FBI agent, Johnny Utah (Luke Bracey), infiltrates a cunning team of thrill-seeking elite athletes – led by the charismatic Bodhi (Edgar Ramirez). The athletes are suspected of carrying out a spate of crimes in extremely unusual ways. Deep undercover, and with his life in imminent danger, Utah strives to prove they are the architects of this string of inconceivable crimes.
Renowned extreme athletes performing stunts in the film include surfers Laird Hamilton, Sebastian Zietz, Makua Rothman, Billy Kemper, Brian Keaulana, Ahanu Tson-dru, Ian Walsh, Laurie Towner, Dylan Longbottom, Albee Layer, Bruce Irons, Tikanui Smith and Tuhiti Humani; snowboarders Xavier De Le Rue, Louis Vito, Christian Haller, Lucas DeBari and Ralph Backstrom; skateboarders Bob Burnquist and Eric Koston; motorcyclists Riley Harper and Oakley Lehman; wingsuit stunt pilots Jon Devore, Julian Boulle, Noah Bahnson, Jhonathan Florez and Mike Swanson, and consultant Jeb Corliss; and free climber Chris Sharma, among others.