Vincent D'Onofrio Joins 'CHiPS' Movie As Villain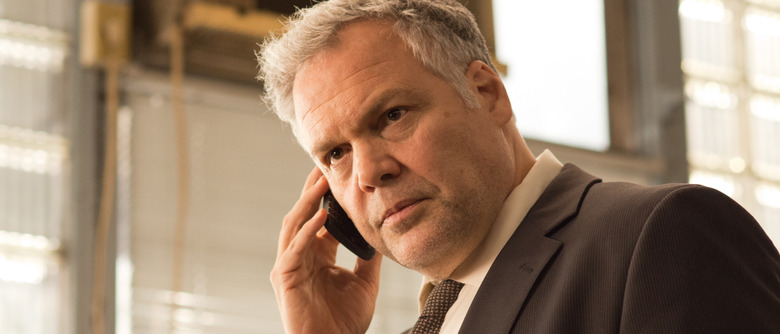 Daredevil baddie Vincent D'Onofrio is ready to take another walk on the dark side. He's reportedly in talks to play the villain in CHiPS, Warner Bros.' upcoming feature based on the '70s TV series. Dax Shepard is directing the new film, and will also star alongside Michael Peña. Get details on the Vincent D'Onofrio CHiPS casting after the jump. 
The original CHiPS show aired from 1977 to 1983. Larry Wilcox and Erik Estrada played Jon Baker and Frank Poncerello, two motorcycle cops working for the California Highway Patrol. It was popular enough to get a movie sequel in 1998 called CHiPS '99. In the 2000s Warner Bros. attempted to reboot the franchise with That '70s Show star Wilmer Valderrama as Ponch.
Shepard and Peña will portray the Wilcox and Estrada roles, respectively, in the new film. Shepard is rewriting a previous draft by Paul Kaplan and Mark Torgrove. Shepard is an experienced race car and motorcycle driver and, according to Deadline, plans to do his own stunts.
Details of the CHiPS movie are being kept under wraps, but the basic plot centers on an exotic-car theft ring. D'Onofrio will play the ringleader who happens to be a ruthless former cop. Tonally, the film is described as being a buddy cop actioner in the vein of Bad Boys and Lethal Weapon.
D'Onofrio spent ten seasons playing a cop on Law & Order: Criminal Intent. After the series concluded in 2011, D'Onofrio kept himself busy with roles in films like Run All Night and The Judge. But it's another small screen role, Netflix's Daredevil, that's attracted the most buzz. Next up for him is yet another antagonistic role in Jurassic World, and then a hero turn in Antoine Fuqua's The Magnificent Seven.
Shepard last directed the indie comedy Hit & Run. CHiPS will be his first studio effort as a filmmaker. In addition to directing, co-starring, and co-writing, he'll also produce CHiPS with Andrew Panay. As an actor, his recent roles include The Judge (with D'Onofrio) and NBC's acclaimed drama Parenthood.