See A Ton Of New Images From 'Star Wars Disney Infinity'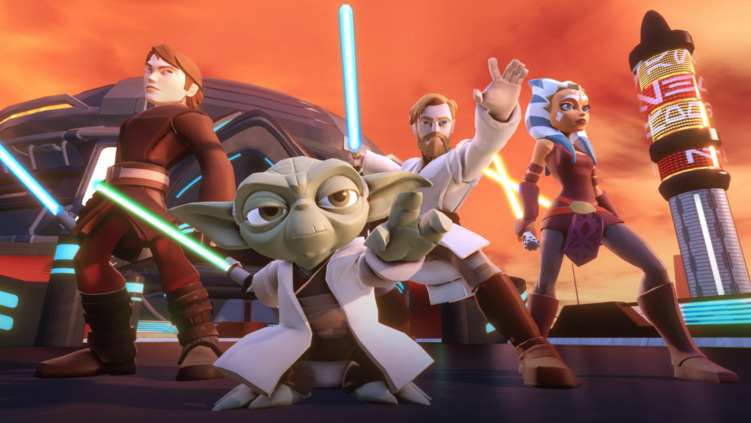 The slow but steady integration of Star Wars into the world of Disney continues. Television was first with Star Wars Rebels, movies are on the way like The Force Awakens, theme parks will be later and video games are next. The first new Star Wars console game is an integration into Disney's already popular Disney Infinity series, which was announced earlier this month. Now several new images from the prequel themed playset, Twilight of the Republic, have been revealed along with new images of the figures. Check out all the new Star Wars Disney Infinity images below.
Here are the images from Twilight of the Republic, a prequel-themed playset that comes with the Disney Infinity 3.0 expansion:
Star Wars Disney Infinity 3.0 Images
Pretty awesome stuff and, to be honest, this is probably the least exciting set of the ones that are announced. Twilight of the Republic is set in the prequels, then there's Rise Against the Empire, which is set in the original trilogy and includes Luke, Leia, Han, Chewbacca and Darth Vader, then there will be a Star Wars: The Force Awakens set released closer to the release of that movie. So as cool as the above images are, consider them probably the worst of the fun stuff Disney Infinity 3.0 has to offer with its Star Wars expansion.
Twilight of the Republic is included with the expansion pack along with Anakin and Ashoka. Any other figures and versions of the game will be extra, but, in an awesome twist, any of the characters you have will be able to play in any of the sets. So if you want Anakin or Ashoka to pilot the Millennium Falcon, you can. If you want Kylo Ren to battle on Naboo, that's a possibility too. You catch the drift.Disney Infinity 3.0 comes to PlayStation 4, PlayStation 3, Wii U, XBox One and XBox 360 in the Fall. Are you going to buy it when it comes out?