Star Wars Bits: New 'Force Awakens' Rumors, Battlefront, Lobot, Yoda Vs. Dooku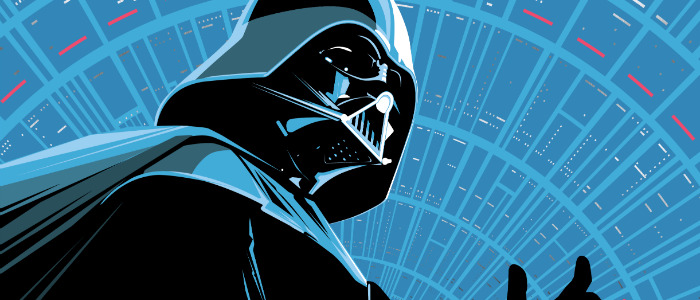 More Star Wars Bits! This one even goes back to the prequels, and you can read about all these items below:
Damon Lindelof would like to write a Lobot movie.
George Lucas was scared of the Yoda/Dooku fight in Attack of the Clones.
Disneyland has a Han Solo in Carbonite lunch combo.
Read Vanity Fair interviews with Kathleen Kennedy, John Williams, Pablo Hidalgo and more.
Did you see Craig Drake's new Star Wars posters?
Why did Dice decide to reboot Star Wars Battlefront instead of sequelize it?
Check out a four page preview of Kanan: The Last Padawan #3.
There might be a big New Hope easter egg in Star Wars: The Force Awakens.
Learn about a connection between Rey and Han Solo in The Force Awakens.
Recently, Damon Lindelof said that he doesn't think he should do a Star Wars movie because his name would be too polarizing for fans. But he himself is still a fan, and talking to Digital Spy, the writer said this about his dream Star Wars film:
My hope is that, like, once they've run through everybody else in 20 or 22 years, they'll be looking for someone to write the Lobot movie. I wanna know how he's ended up working with Lando and exactly what that apparatus does and how he lost his hair. And, you know, I always root for the bald guy.
Business Insider has a really fun article about the big fight at the end of Star Wars Episode II: Attack of the Clones. Revealed on the commentary track, George Lucas explains how scared he was to put that in the movie, and this article breaks it down.
Check out this image of a Han Solo in Carbonite meal combo at Disneyland via coheteboy: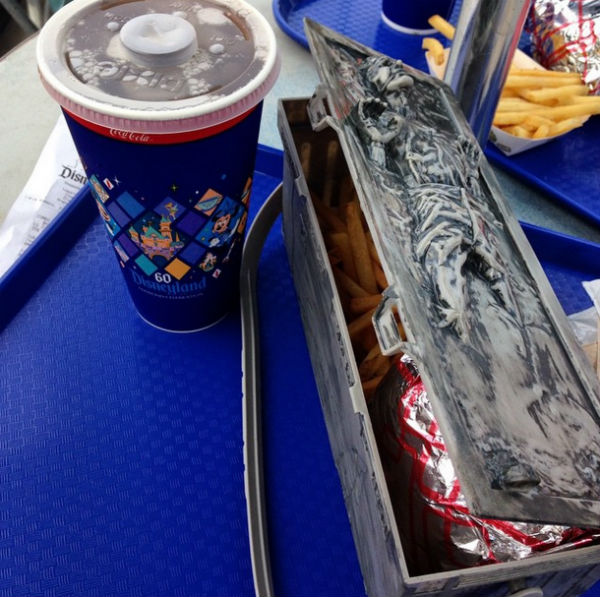 One of the great things about the Internet is a journalist isn't limited by page count. So if you're Bruce Handy, the Vanity Fair reporter who did the amazing Star Wars: The Force Awakens cover story, you can do your base article, and then run the full transcripts of your interviews you did as research, for ravenous Star Wars fans like us. Click the below links to read the interviews, some of which we've posted about before.
Lucasfilm president Kathleen Kennedy
Composer John Williams
Lucasfilm story group member Pablo Hidalgo
Screenwriter Lawrence Kasdan
Costume designer Michael Kaplan
Director J.J. Abrams
You may have already seen these posters in previous articles, but Craig Drake has released some really cool new Star Wars posters at the Hero Complex Gallery in LA. See the full exhibit here but these are the Star Wars ones.
After a few Star Wars Battlefront games, many were wondering why Dice and EA have decided to reboot the franchise instead of just make a new installment. With a new era in Star Wars, it seems kind of obvious, but if you are curious about the reason, a Dice executive explained it to Games Radar.
Comic Book Resources has an exclusive four page preview of Kanan: The Last Padawan #3 over on their site. This is just one image, head to the link to see more.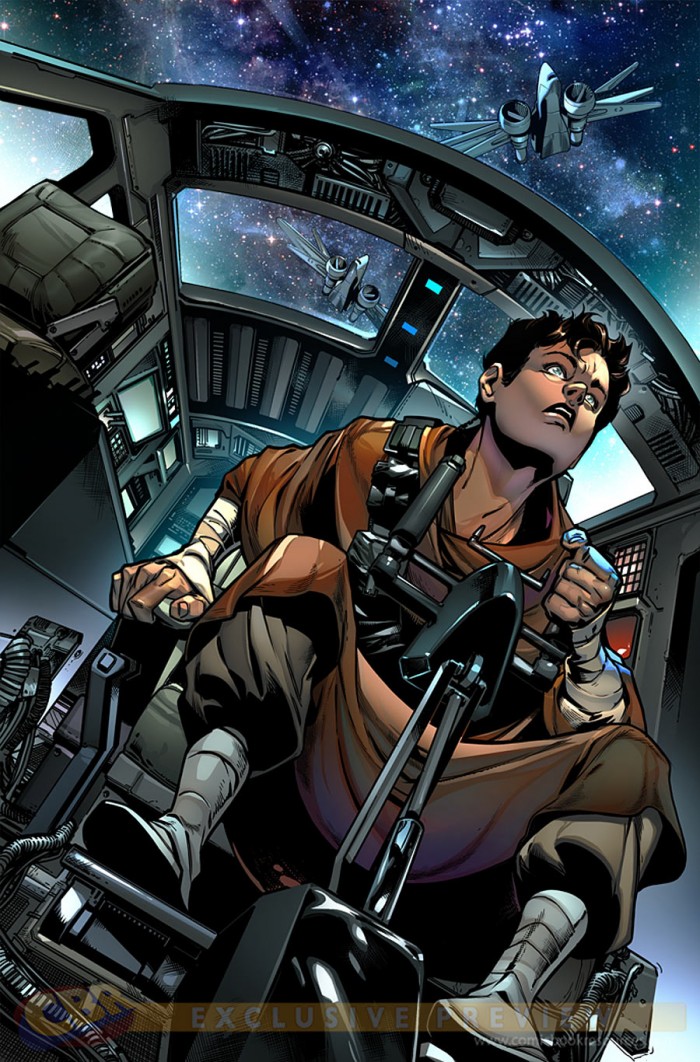 Making Star Wars is reporting a very curious rumor of a device from A New Hope reappearing in The Force Awakens. Not the lightsaber which we've seen in the trailer either. It's something similar and equally curious. If true, it's a small spoiler so click the above link to read it.
And lastly, Making Star Wars also has an article about another link between the trilogies. This one is a much bigger spoiler than the one above, in that it concerns Rey and Han Solo. We can't be sure it's true but,if so, it has some pretty big implications.