Cool Stuff: Craig Drake Solo Show II Featuring Star Wars, Tron, Sherlock, Kill Bill & Pulp Fiction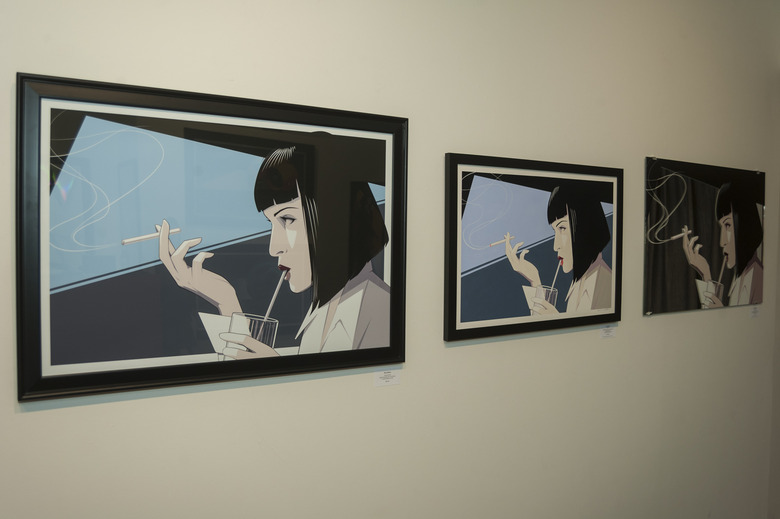 Craig Drake's work can stop you in your tracks. Drake uses what feels like a bare minimum of elements to perfectly represent his subject in a striking and distinctive way. You might call it "minimalist," but that would be a discredit to the energy contained in each piece.
In 2014, Drake had a very-well received solo show at the Hero Complex Gallery in Los Angeles. A few of the pieces even made my best of the year list. This year, the did a follow up show that contained even more beautiful work based on properties we all know and love. Stuff like Star Wars, Tron, Kill Bill, Akira, Pulp Fiction and more. Below, check out images from the latest Craig Drake Solo Show.
The Craig Drake Solo Show is now on exhibit at the Hero Complex Gallery, 2020 South Robertson Blvd. Studio D, Los Angeles, CA. It'll be on display through July. You can purchase prints here.
Craig Drake Solo Show II
And here are some images from inside the gallery and at the opening courtesy of Juliet Deissroth.
As you can see from the photos, each poster was available in multiple variants, with various versions on wood, foil, and metal. In the case of Vader and Han Solo, there were even Mega Metals, which were pretty much life-size reproductions.
What do you think of Craig Drake's solo show?