Second 'Humans' Teaser Trailer: Robots Are Watching Us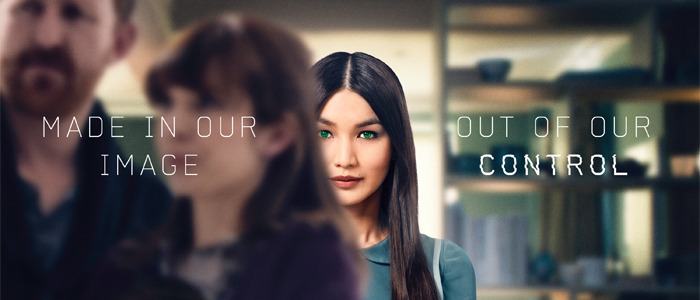 Back in March, we got our first look at AMC's forthcoming sci-fi drama series Humans. The new series is based on the Swedish show Äkta människor, or Real Humans, and takes place in a world where humanoid robot servants are helping people in their everyday life. But as we've seen many times before, these creations won't stay our servants for long.
Now a better look at the forthcoming series has arrived with a little bit of footage from the show that hits AMC in June. It's nothing we haven't seen from similar stories before, but with a cast that includes William Hurt, Katherine Parkinson, Tom Goodman-Hill, Gemma Chan and more, hopefully AMC has another hit show on their hands. Watch the second Humans teaser trailer below!
As you can see, the robots are pretty damn creepy. Regardless of how much they help humankind, before they eventually turn on them, I'm not sure I could handle having one of them around the house. But I'm curious as to how this series will tread new territory with a premise that has been explored rather extensively in science fiction before.
Here's the official synopsis of the AMC series:
HUMANS, a bold new eight-part drama series from AMC, Channel 4 and Kudos, is set in a parallel present where the latest must-have gadget for any busy family is a 'Synth' – a highly-developed robotic servant eerily similar to its live counterpart. In the hope of transforming the way they live, one strained suburban family purchases a refurbished synth only to discover that sharing life with a machine has far-reaching and chilling consequences.
The pilot is directed by Samuel Donovan (Utopia, Starlings) with a script from Sam Vincent and Jonathan Brackley (Spooks, Spooks: The Greater Good). The series also stars Colin Morgan, Rebecca Front and Neil Maskell. Humans was originally developed for Xbox Entertainment Studios, but that division of Xbox was shut down last year, and AMC picked up the pieces.
And if you're interested in another look at the robots from Humans, reader @DavidJFulde on Twitter called our attention to this viral advertisement for Persona Synthetics, the company responsible for creating the robotic servants:
Between this series and the HBO adaptation of Westworld on the way, it sounds like self-aware robots are going to be all the rage on the small screen pretty soon. It's only a matter of time before they take over the real world too.
Humans begins airing on AMC on June 28th this summer.