Ryan Reynolds Makes A Young 'Deadpool' Fan's Wish Come True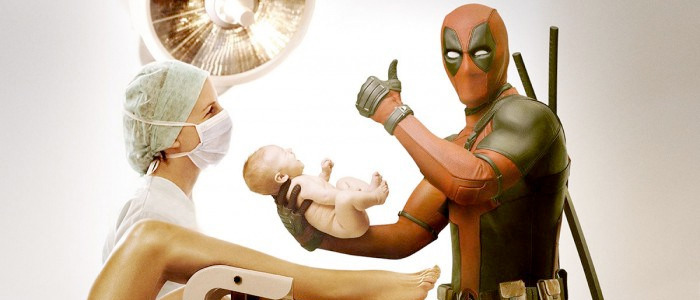 With confirmation that the eagerly anticipated big screen adaptation of Deadpool is going to be R-rated, there's no doubt that the property isn't the most kid-friendly comic book character. But that didn't stop Ryan Reynolds from making a young boy's wish come true to meet Deadpool and visit the set of the movie that's in production in Vancouver right now.
Young Tony Acevedo was given a great gift by the Make-A-Wish Foundation when his wish was to meet Deadpool. Reynolds posted a photo to Instagram of him meeting young Acevedo, and it's an adorable, touching moment. See the young fan's Deadpool make a wish come true below!
As you can see, not only did Acevedo get to meet Ryan Reynolds as Deadpool, but he also got to put on the Merc with a Mouth's signature mask and gloves. So how does a young fan end up loving one of the most sarcastic, violent comic book characters in Marvel's arsenal? Acevedo told the Make-A-Wish volunteers (via THR), "Deadpool never dies and everything he touches has magical powers." That's quite the innocent perspective on the comic book character, and it's cute as hell.
If you want to know more about the Make-A-Wish Foundation or contribute to help other kids like Acevedo make their dreams come true when they need them the most, check out their official website right here for more information.
In the meantime, check out some previous first look photos from the set of Deadpool, such as a look at Negasonic Teenage Warhead (Brianna Hildebrand), right here. You can also head over to Ryan Reynolds' official Instagram to see some more looks behind the scenes of the comic book flick.
Deadpool is directed by visual effects wizard Tim Miller, making his feature directorial debut, and written by Rhett Reese and Paul Wernick (Zombieland). The film also stars Ed Skrein as Ajax, Morena Baccarin as Copycat, Gina Carano as Angel Dust, and T.J. Miller as Weasel.
Based upon Marvel Comics' most unconventional anti-hero, DEADPOOL tells the origin story of former Special Forces operative turned mercenary Wade Wilson, who after being subjected to a rogue experiment that leaves him with accelerated healing powers, adopts the alter ego Deadpool. Armed with his new abilities and a dark, twisted sense of humor, Deadpool hunts down the man who nearly destroyed his life.
Deadpool hits theaters next year on February 12th, 2016.