'Ex Machina' Star Alicia Vikander In Talks For New 'Bourne' And 'Assassin's Creed'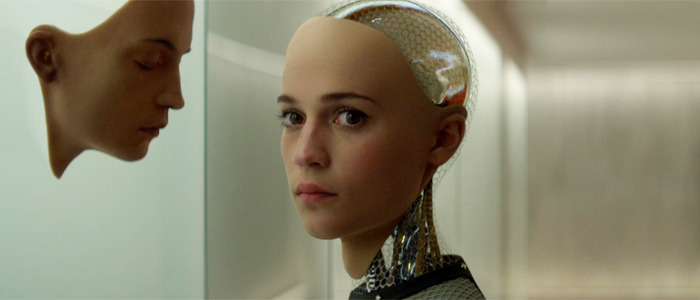 After starring in the riveting sci-fi thriller Ex Machina, which you can still catch in theaters, Swedish actress Alicia Vikander is on the rise to stardom. Aside from being sexy and mysterious in Alex Garland's magnificent film about artificial intelligence, we'll also see Vikander in Guy Ritchie's forthcoming Man from U.N.C.L.E., the chef-centric Adam Jones starring Bradley Cooper and the potential awards contender The Danish Girl, with Eddie Redmayne.
And now she looks to be getting an even bigger boost as Alicia Vikander joins Assassin's Creed, the video game adaptation at New Regency, and Universal's developing Jason Bourne sequel with Matt Damon. Get more details after the jump.
Deadline has the story out of Cannes, where news recently surfaced that Vikander was going to join Tom Hanks in The Circle, James Ponsoldt's upcoming adaptation of Dave Eggers' 2013 novel of the same name. However, with Vikander's star rising, and these two projects now trying to strike a deal with the actress, it appears that she will likely end up dropping out of The Circle. However, the production already as an offer out to Emma Watson to replace her, so the project shouldn't be thrown off course.
As of now Vikander is only in talks for these two projects as her schedule still needs to be figured out, but as of now the actress will probably end up with both roles. However, as of now, it's unclear what characters she would play in either film, mostly because details on both of the anticipated 2016 projects are being kept under wraps.
With Bourne 5, all we know is that The Bourne Supremacy and The Bourne Ultimatum director Paul Greengrass is getting back behind the camera and Matt Damon will reprise his role as Jason Bourne. This has put the direct sequel to The Bourne Legacy starring Jeremy Renner on the backburner for now. And for those hoping for an eventual crossover, producer Frank Marshall crushed those dreams earlier this year. But things change with time.
As for Assassin's Creed, the cast is much more filled out for the video game adaptation. Michael Fassbender and Marion Cotillard are both slated to star in the film after working together on their adaptation of Macbeth.  And it just so happens that the Shakespeare project's director Justin Kurzel will be at the helm of the action adventure flick, making quite the jump into genre filmmaking.
And the project would be a reunion for Vikander as well since she also recently starred in Derek Cianfrance's forthcoming drama The Light Between the Oceans with Fassbender. As someone unfamiliar with the Assassin's Creed game series, I'll let the fans speculate as to who Vikander could play in the video game adaptation. No matter who she plays, with a cast like this assembled, this could be the movie that actually breaks the mold of bad movies based on video games.
Bourne 5 hits theaters on June 29th, 2016 while Assassin's Creed arrives later in the year on December 21st, 2016. Hopefully we'll have more details on these projects soon, so stay tuned.