'Black Mass' Trailer: Maybe Whitey Bulger Shouldn't Be Giving Advice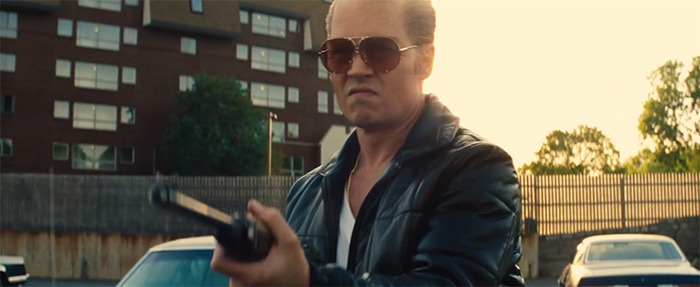 "If nobody sees it," Whitey Bulger tells his six-year old son in this new Black Mass trailer, "it didn't happen." But much of what we'll see in this movie did happen, as Bulger, played here by Johnny Depp, was among the most notorious gangsters in Boston's history — hell, in US history. He topped the FBI's Most Wanted list for years. Depp may be channeling Jack Nicholson's performance from The Departed, a performance which was also at least inspired by Bulger, but he still comes off as intense and terrifying in this new trailer. 
The first Black Mass trailer was all about setting up Depp's take on Bulger as a cunning and ruthless villain, and this one furthers that image. It's all domination, intimidation, and violence, with a few shots of the lawmen trying to bring him down for good measure.
The film also features Joel Edgerton, Benedict Cumberbatch, Kevin Bacon, Jesse Plemons, Peter Sarsgaard, Dakota Johnson, and Corey Stoll, and you'll see quite a few of them in this new trailer.
The most feared, most notorious gangster in US history. Watch Johnny Depp in the exclusive new #BlackMass trailer.https://t.co/LuVNxK9yUU

— Black Mass (@BlackMassMovie) May 23, 2015
The trailer, obviously, comes straight from the film's social media presence. Black Mass, directed by Scott Cooper, opens on September 18.
In 1970s South Boston, FBI Agent John Connolly (Joel Edgerton) persuades Irish mobster James "Whitey" Bulger (Johnny Depp) to collaborate with the FBI and eliminate a common enemy: the Italian mob. The drama tells the true story of this unholy alliance, which spiraled out of control, allowing Whitey to evade law enforcement, consolidate power, and become one of the most ruthless and powerful gangsters in Boston history.