Lionsgate Wants 'The Odyssey' To Be Multiple Films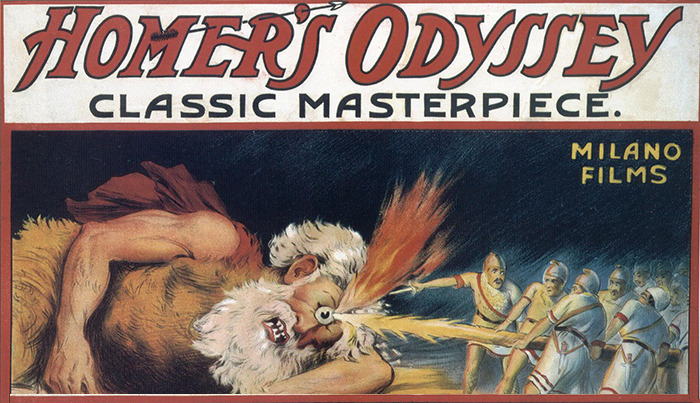 In an unprecedented move, a movie studio has decided that an adaptation of a well-known story will be broken up into several movies, rather than done as a single film. That's a joke, of course. The way things are now, it would be more surprising to hear of one film being developed.
In this case, the subject is The Odyssey, which The Hunger Games director Francis Lawrence and producer Nina Jacobson are developing for Lionsgate. Their work is based on the epic poem by Homer that we all studied, or pretended to study while using Ray Harryausen films as our real curriculum, in school.
Variety reports that Lionsgate CEO Jon Feltheimer said during the company's analyst conference call "our deal with Francis contemplates more than one movie." Motion Picture Group Co-Chairman Rob Friedman followed with ""We have high goals for this one. We're feeling very, very bullish."
And why not? The Odyssey, with its collection of human characters and monsters, and all their associated conflicts and relationships, is great material for a film or two. That's why Homer's poem has endured for thousands of years. It has already directly led to or influenced many projects in film and TV.
Once upon a time we would have been excited to hear that a studio was allocating multiple films for the adaptation of a large story. The Odyssey is big enough for two movies, easily. So what happened? Why does this announcement elicit an "oh, of course" reaction rather than enthusiasm?
Much of it has to do with the way that studios such as Lionsgate, Warner Bros., and Summit have split adaptations into multiple films to draw out their staying power. We're still waiting for the second half of the adaptation of the final Hunger Games book to drop, but the most common criticism of the first half of the movie adaptation of Mockingjay was that it felt precisely like the two-film split was an artificial way of extending the story. It's easy to be worried about the same thing happening here.
Peter Craig is scripting at least the first film, and if Lionsgate is truly bullish on this one we'll probably hear a lot more soon. There was a similar development of Homer's material brewing over at Warner Bros. but we don't know what state that is currently in.