First Look: The Gang's All Back For 'Wet Hot American Summer: First Day At Camp'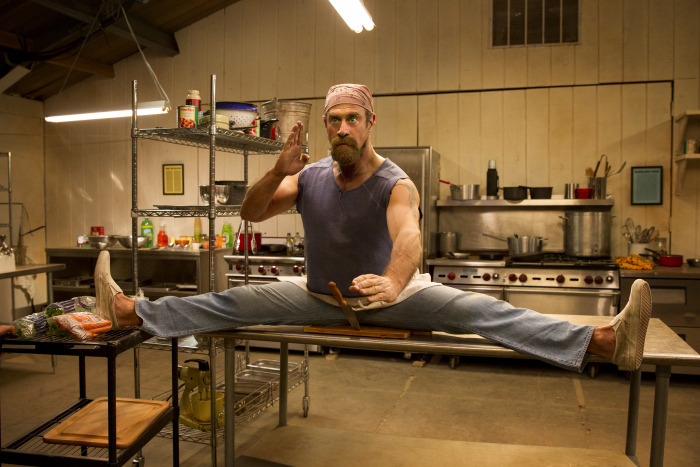 Netflix would like you to kick off your Memorial Day weekend with a quick return to Camp Firewood. The streaming service has revealed the first photos from Wet Hot American Summer: First Day of Camp, David Wain's prequel to his 2001 comedy. Everyone's back, including Janeane Garofalo, Paul Rudd, Elizabeth Banks, Amy Poehler, Bradley Cooper, and Christopher Meloni.
Get your Wet Hot American Summer prequel first look after the jump. 
Wain returned to direct Wet Hot American Summer: First Day of Camp, which he also co-write with Michael Showalter. Both of them will appear onscreen as well. Take a peek at the new Netflix series below.
As the title suggests, Wet Hot American Summer: First Day of Camp takes place at the start of the summer of 1981, the end of which we saw in the original Wet Hot American Summer. "The magical thing about summer camp is that you can leave your persona from home and become the person you really want to be," said Showalter.
"In real life we're 15 years older but in the show we're playing two months younger," explained Wain. Showalter added, "We thought it was funny that in the original we played a bunch of 30-year-olds playing teenagers. Now we're in our 40s and our characters are even younger." It's a cute visual gag that might work better if some of these actors (ahem, Rudd) hadn't simply refused to age.
Also back from the original movie are Michael Ian Black, Judah Friedlander, Ken Marino, Zak Orth, David Hyde Pierce, Joe LoTruglio, Marguerite Moreau, Molly Shannon, H. Jon Benjamin, Nina Hellman, A.D. Miles, Marisa Ryan, and Kevin Sussman.
In addition, there are a ton of new cast members including Chris Pine, Jon Hamm, Kristen Wiig, Jason Schwartzman, Michaela Watkins, Josh Charles, John Slattery, Randall Park, Lake Bell, Jayma Mays, Paul Scheer, Rob Huebel, and Richard Schiff.
The eight-episode Wet Hot American Summer: First Day of Camp premieres Friday, July 31.