Sequel Bits: 'Ninja Turtles 2', 'Independence Day 2', 'Terminator Genisys', 'Ash Vs. Evil Dead'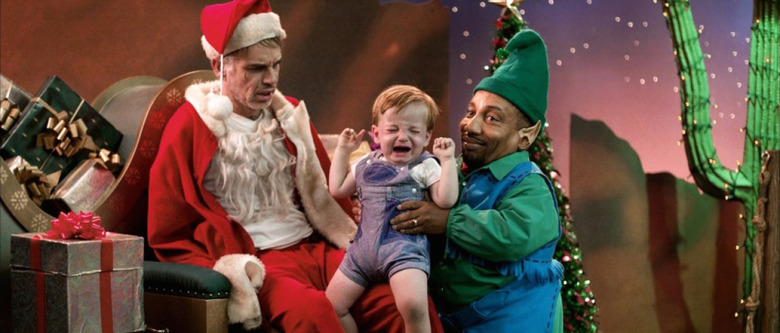 Some odds and ends from the world of sequels. After the jump:
Krang is rumored to be in Ninja Turtles 2
Gramercy Pictures relaunches with Insidious 3
Leslie Mann and Kat Dennings join Croods 2
Independence Day 2 adds Patrick St. Esprit
... and Vivica A. Fox discusses her return
Warner Bros. sets Project XX for summer 2016
Bad Santa 2 is hoping to shoot this fall
Mimi Rogers boards the Ash vs. Evil Dead show
Magic Mike XXL reveals a sexy new poster
Terminator Genisys unleashes another TV spot
Casey Jones, Bebop, and Rocksteady are all in for Teenage Mutant Ninja Turtles 2. Might another fan favorite character be joining them? Rumor has it Krang will make his live-action debut in the upcoming movie, directed by Dave Green. How exactly he figures into the story isn't clear, but sources claim a scene featuring his arrival on planet Earth was shot last week. [CinemaBlend]
***
Insidious Chapter 3 won't just continue the Insidious franchise. It'll also mark the relaunch of Gramercy Pictures. Focus Features has just revived the label, which was shut down in 2002, to focus on sci-fi, horror, and action pics. Insidious Chapter 3 has the honor of being the first title to go out under the new Gramercy brand. [Variety]
***
Warner Bros. is prepping one more gigantic blowout. The studio has dated Project XX, the sequel to 2012's found footage comedy Project X, for August 19, 2016. It's unclear if the new film will pick up with the plot and characters of the last one, which followed a bunch of teenagers who throw an out-of-control party. [MovieWeb]
***
Bad Santa 2 has been in development for years, with little to show for it, but writer/director Doug Ellin seems optimistic about its progress. "He's back and good to go," Ellin said of star Billy Bob Thornton. "The exact status is we're working on the script right now, and if we get it right, we'll shoot in September or October." [Collider]
***
The already star-studded voice cast of The Croods 2 is making room for two more. Leslie Mann and Kat Dennings are joining the animated sequel, alongside Nicolas Cage, Emma Stone, Ryan Reynolds, Catherine Keener, and Clark Duke. Mann will play the matriarch of a competing clan, while Dennings is her daughter. Kirk De Micco and Chris Sanders return as writers and directors [THR]
***
Click through for Ash vs. Evil Dead and Independence Day 2 casting, a new Terminator Genisys TV spot, and a new Magic Mike XXL poster.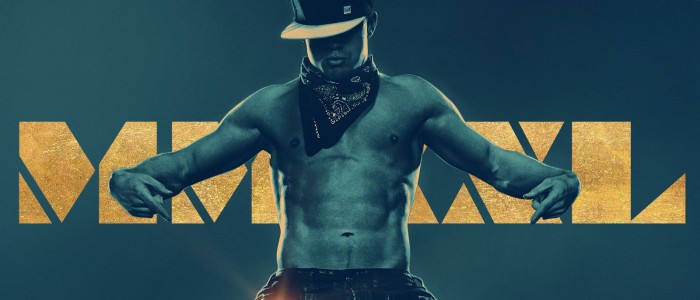 Mimi Rogers is joining the growing war against evil in Starz' Ash vs. Evil Dead. She'll guest star as Suzy Maxwell, mother of wild child Kelly (Dana DeLorenzo). Following an accident, Suzy finds herself in the company of her family as well as some uninvited guests. Bruce Campbell returns as Ash and Sam Raimi serves as exec producer. Lucy Lawless, Ray Santiago, and Jill Marie Jones also star. [THR]
***
Independence Day 2 found a new POTUS in Sela Ward, and she's bringing with her a new Secretary of Defense, in the form of Patrick St. Esprit. The actor's other recent roles The Hunger Games: Catching Fire, in which he played District 12 Peacekeeper Romulus Thread. He's one of several new actors in Independence Day 2 along with Liam Hemsworth, Maika Monroe, and Jessie Usher. [TheWrap]
***
Meanwhile, one of the returning cast members from Independence Day is slipping details about the sequel. Vivica A. Fox revealed what her ex-stripper character Jasmine will be doing in the new film:
I will not be on the pole. She was a stripper with a heart of gold, and who had said that she was doing it because the money was good. Now she's a hospital administrator and she's running the hospital and I'm glad that they moved her character forward as a woman.
Fox also says Will Smith, who won't be in the new film, "gave his blessing" to cast Usher as his stepson Dylan. Director Roland Emmerich and stars Jeff Goldblum, Bill Pullman, and Judd Hirsch are all back for Independence Day 2. [Black Film]
***
Who wants a little more man-candy from the cast of Magic Mike XXL? Channing Tatum delivers with a new poster, featuring himself, Adam Rodriguez, Matt Bomer, Joe Manganiello, and Kevin Nash.
Burning down the house for one last show... Tito. Ken. Mike. BDR. Tarzan. #MagicMikeXXL #July1 pic.twitter.com/arfAJEi3ht

— Channing Tatum (@channingtatum) May 21, 2015
Gregory Jacobs directs Magic Mike XXL. Steven Soderbergh serves as exec producer and director of photography. [Twitter]
***
T-800 (Arnold Schwarzenegger) and Sarah Connor (Emilia Clarke) get down to business in the new TV spot for Terminator Genisys, which features a bit of new footage. Their methods may be alarming to some, like J.K. Simmons, but who has time to explain when the fate of the entire world is at stake?
Alan Taylor directed Terminator Genisys which also stars Jason Clarke, Jai Courtney, and Matt Smith. [Arnold Schwarzenegger]