'The Gallows' Trailer Gives New Meaning To The Term "School Spirit"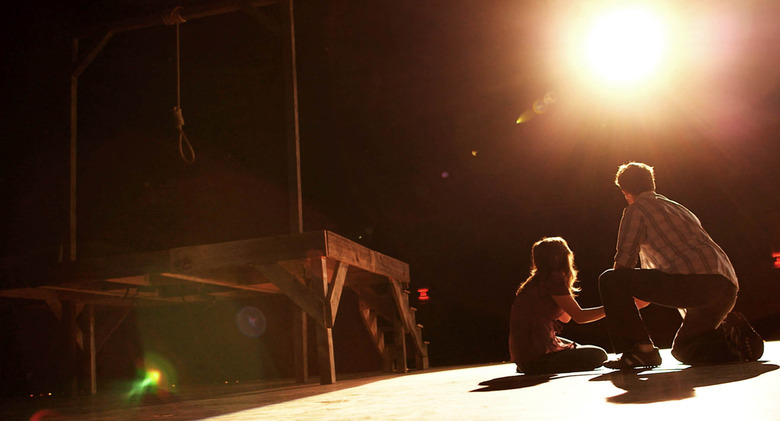 Despite a cushy release date (July 10) and a hotshot producer (Jason Blum), The Gallows has flown mostly under the radar. It doesn't have a big-name cast or crew, and it's not part of a high-profile franchise. But now that we're well into the summer movie season, Warner Bros. / New Line is finally getting the ball rolling on the marketing campaign.
Today we have the first full-length The Gallows trailer to share with you. Check it out after the jump. 
MTV debuted the first The Gallows trailer, which follows a brief teaser released last month.
The premise of the film is that a school is remounting a stage production that killed its star some 20 years earlier. But the kids in the trailer look like they're just goofing around. They're sneaking around backstage in the dead of night, smashing glass and drilling wood without turning on any lights. Someone was bound to get hurt even before the Ghost of Theater Geeks Past showed up.
Despite being an original film, the Gallows doesn't feel terribly unique in this trailer. Even the soundtrack seems familiar. Slow, moody covers of classic songs have become their own trailer cliché, with The Social Network, Sucker Punch, Maleficent, Exodus: Gods and Kings, Fifty Shades of Grey, San Andreas, and Avengers: Age of Ultron all employing that same tactic in recent years.
At least that first teaser did a good job of setting the creepy tone. Hopefully we'll see more interesting stuff from The Gallows as the release date nears. Travis Cluff and Chris Lofing directed.
Twenty years after an accident caused the death of the lead actor during a high school play, students at the same small town school resurrect the failed stage production in a misguided attempt to honor the anniversary of the tragedy — but ultimately find out that some things are better left alone.