'The Crow' Remake Adds Andrea Riseborough As Villain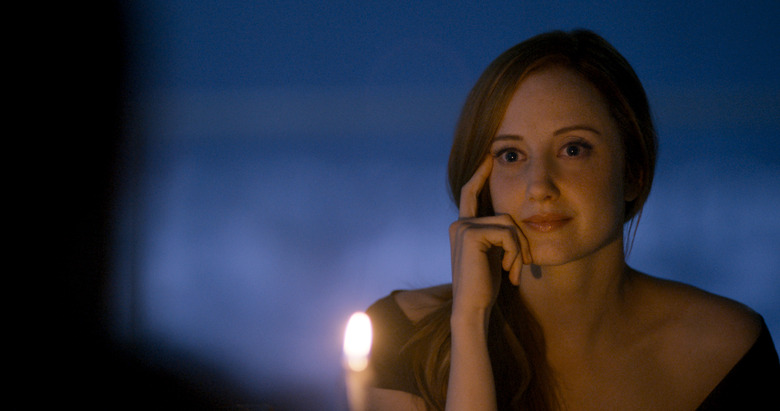 The Crow remake has been a revolving door of talent over the past couple of years, with various actors and filmmakers coming and going over the years. As of right now, director Corin Hardy (The Hallow) and star Jack Huston (Boardwalk Empire) are the latest combo to try and tackle the project.
And miraculously, it seems they're actually making some forward progress. Andrea Riseborough has just signed on on to play the villain. More details on The Crow Andrea Riseborough casting after the jump. 
Deadline reports Relativity Studios is currently in negotiations with Riseborough about the part. In a bit of genderswapped casting, she'll play mob boss Top Dollar. Her goons murder Eric Draven (Huston) and his girlfriend Shelly, spurring Eric to return from the grave and take his revenge. Jessica Brown Findlay is attached to play Shelly.
In the original comic by James O'Barr, Top Dollar is a low-level drug dealer. He got promoted to mob boss for the 1994 film adaptation directed by Alex Proyas, where he was played by Michael Wincott. The character also appeared in the 1998 TV series The Crow: Stairway to Heaven, portrayed by John Pyper-Ferguson. 
The new The Crow has gone through several revisions over the years, with the most recent draft being written by Claire Wilson. It's said to be a more faithful adaptation of O'Barr's books. O'Barr himself is serving as a consultant on the project.
Before Hardy and Huston, Luke Evans and F. Javier Gutiérrez were attached; before them, directors Juan Carlos Fresnadillo and Stephen Norrington and stars James McAvoy and Bradley Cooper all took turns marching through.
Edward R. Pressman, who produced the 1994 feature, will produce the upcoming film along with Kevin Misher, Ryan Kavanaugh, and Jeff Waxman. Tucker Tooley and Bob and Harvey Weinstein are executive producing.
Riseborough is coming off of Oblivion and Birdman. Next up for her is the Warner Bros. horror movie Hidden, which does not yet have a release date.