John Lasseter Reveals 'The Good Dinosaur' And 'Finding Dory' Clips At Cannes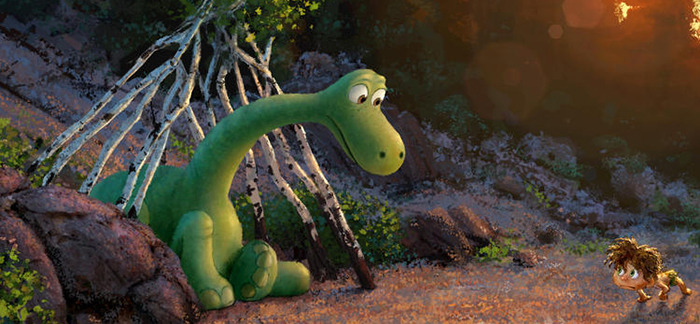 Pixar premiered its new film Inside Out at Cannes, and along with that finished debut the studio showed off footage from two other upcoming films, The Good Dinosaur and Finding Dory.
The former film, about a dinosaur who befriends a human boy, represents the culmination of a long and ultimately revamped story development cycle. The latter is the sequel to Finding Nemo. Thanks to the Cannes presentation we have a few new comments from John Lasseter about each film, and tantalizing descriptions of environments in The Good Dinosaur as among the most realistic Pixar has ever created.
Let's start with Finding Dory, which sees Dory and Nemo seeking Dory's family parents in a story set just six months after the end of Finding Nemo. Lasseter showed off images of those characters, who will be voiced by Diane Keaton and Eugene Levy, as we knew.
Variety mentions "a dip through the Pacific Ocean where shipping containers have fallen off boats; a frightening encounter with a giant squid; wading past a kelp forest on California's northern coastline; and new friends in the form of an octopus and a whale-shark named Destiny," who Lasseter explains has a bit of an identity crisis, thinking she's a whale rather than a shark. Destiny and the octopus may be residents of the "Marine Biology Institute of California," where much of the film is set.
Then there's The Good Dinosaur, the real promo push for which will probably start just after Inside Out opens, as The Good Dinosaur hits theaters in November. John Lasseter introduced footage with an explanation of part of Pixar's methodology:
Our films ask 'What if?' questions. What if monsters really did live in your closet? What if a rat wanted to be the finest chef in the most beautiful city in the world? I think our next movie asks the biggest 'What if?' of all. What if the asteroid that wiped out dinosaurs actually missed Earth?
OK, we mostly knew that, especially if you've read the most recent official synopsis from the film. Lasseter repeated some other info — it's basically a "boy and his dog" story, but in this case the "boy" is Arlo, a dinosaur separated from his family, who meets Spot, an orphaned human boy.
THR notes that Lasseter said the film is "striving for a very unique tone," and pointed out the film's rendition of the natural world, which "looked like live-action, but [are] actually all animated."
That's pretty interesting as the concept art we've seen for the film, such as the piece above, has all been pretty cartoonish. But Lasseter says "It's not going to be your average backdrop for a film," and "the level of believability we're striving for in this film is going to be breathtaking."
As for the story, which was reportedly reworked in a significant fashion after original director Bob Peterson left and Pete Sohn took over in full, things are more mysterious.
Variety notes that "The early clips from this movie played like a cross between Tarzan and Lilo & Stitch," and relates Lasseter saying "We're putting our own unique Pixar spin on the dinosaur world," while showing characters such as three T-rexes, a Pterodactyl and what the site calls "a shaggy Velociraptor." And if that description freaks you out, Lasseter explained "the feathers on the Veliraptor look like the haircuts of famous football players."