Cool Stuff: A Rick Baker Auction Featuring One Of A Kind Props And Effects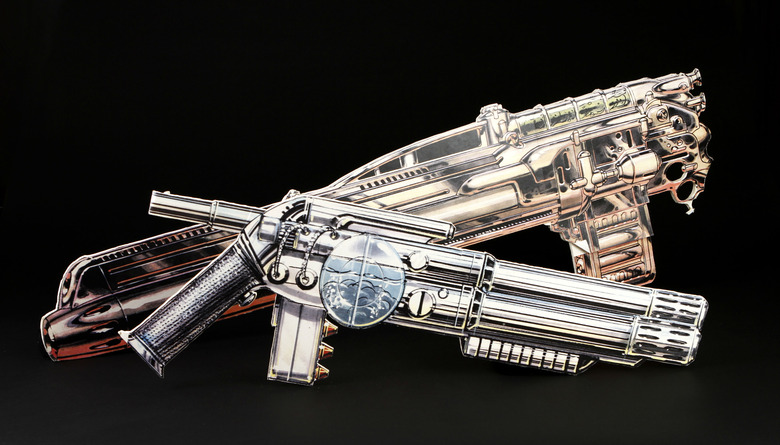 In the realm of motion picture effects and make-up, Rick Baker is the name among names. A seven-time Oscar winner, he's been making us believe the unbelievable for the better part of five decades. From Star Wars to An American Werewolf in London, Thriller, The Rocketeer, Men in Black, Ed Wood, Planet of the Apes, the guy has done it all. And now, you can purchase one-of-a-kind, original props from throughout his career.
On May 29, the Prop Store is hosting a Rick Baker auction featuring props, costumes, make-up effects and more from many of the films mentioned above, along with Hellboy, Gremlins 2, Harry and the Hendersons, Batman and Robin, Batman Forever and others. The stuff is stunning and, below, you can see just a few of our favorite pieces that are part of the auction. 
First up, here are just a few of the over 400 different pieces that will be available at the Rick Baker auction. It takes place May 29 in Los Angeles, but you can bid online. All of the information and full listing of items, can be found at www.propstore.com/rickbaker.
Rick Baker Auction Items
So what exactly are each of those pieces? The file name will give you an idea. And as always, remember that these are original, one of a kind pieces of film history. They aren't going to sell cheap. Some might be hundreds of dollars, others might go for tens of thousands. But if you are a fan, it's cool to look at these things no matter what.
What piece of Rick Baker memorabilia do you most covet?
An American Werewolf in London, Planet of the Apes, Batman & Robin, Hellboy, Men in Black II and Mighty Joe Young are famed for their amazing masks, creature suits and make-­?up effects and this May sees $750,000 worth of their original treasures from these films go under the hammer in an exclusive live auction. Collectors and fans can bid at no reserve on 417 lots from 50 productions spanning Rick Baker's 40-­?year+ career. Material sourced direct from the Baker's Cinovation studio with a pre-­?sale estimated total value of $750,000 will feature in the auction held on 29 May 2015 at the Hilton – Universal City in Los Angeles. The auction is being managed by original prop and costume experts Prop Store.