Chris Pratt Will Be In Non-'Guardians Of The Galaxy' Marvel Films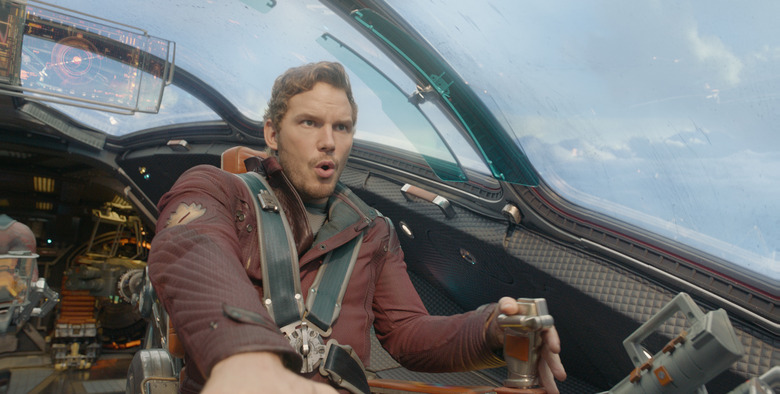 Chris Pratt may be shooting down casting rumors left and right, but one thing we know for sure is that he'll be back for another Guardians of the Galaxy. And, it seems, for another several Marvel movies after that — including multiple non-GOT projects. Read the Chris Pratt Marvel future quotes after the jump. Speaking with GQ, Pratt revealed he's sticking around the Marvel Cinematic Universe for quite some time:
I'm tied to doing three more, or five more, Guardians of the Galaxy or whatever it is, you know, two more Guardians plus another couple.
The GQ writer interprets this as meaning Pratt "is committed to at least two sequels, as well as spin-off projects where his character will appear with other Marvel characters."
Basically, it sounds like the same six-picture deal that most of Marvel's leads have. Guardians of the Galaxy and Guardians of the Galaxy 2 (which is already dated for May 5, 2017 and starts shooting in February) take up two of those slots. If the sequel does well, Guardians of the Galaxy 3 will almost certainly claim a third.
Less clear is which films will use up the other three spots on Pratt's contract. The first Guardians of the Galaxy occupied a very different corner of the MCU than the other films have, and had very little overlap with The Avengers, Avengers: Age of Ultron, and their related films.
But the two-part Avengers: Infinity War seems more likely to involve Pratt's Star-Lord. The Power Stone figured prominently into the first Guardians of the Galaxy, and Thanos will have to get his hands on it eventually if he wants the complete set.
Other possibilities for Star-Lord are 2019's Inhumans, which deals with a race of superhumans created by the Kree (Ronan's people from Guardians of the Galaxy), and 2018's Captain Marvel, which centers on a character who's had extensive contact with the Guardians of the Galaxy in the comics.
In the meantime, Pratt has already begun prepping for his next outing as Star-Lord. "I got teary-eyed," he said of his first Guardians of the Galaxy 2 briefing with director James Gunn. "He's so fucking smart and peculiar." But there's still a lot he doesn't know about it, like the plot. "[Gunn] just knows me too well to tell me too much," said Pratt.
For now, Pratt seems perfectly happy to keep playing Star-Lord for the foreseeable future. After teasing the idea of retiring early to spend time with his son Jack, Pratt admitted, "I think I would do it and then three months later I would be tired of bird hunting and I would be like '...Guardians Ten?'"