'Last Samurai' Helmer Ed Zwick In Talks To Direct 'Jack Reacher' Sequel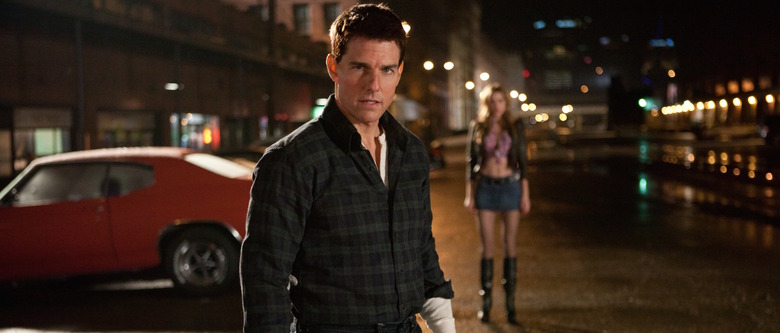 The Jack Reacher sequel is about to take a big step forward. Ed Zwick (The Last Samurai) is reportedly in talks to direct the follow-up to the Tom Cruise thriller. In addition, Zwick and Marshall Herskovitz will take a pass at the script. More on the Ed Zwick Jack Reacher sequel news after the jump. 
Deadline reports Zwick and Herskovitz are in negotiations to rewrite the Jack Reacher sequel script by Richard Wenk (The Equalizer), and that Zwick will direct. Christopher McQuarrie, who wrote and directed the first Jack Reacher, will executive produce. Cruise is expected to reprise his lead role as a former MP.
Based on the book series by Lee Child, 2012's Jack Reacher made only $80 million in the U.S. on a $60 million budget. But it raked in another $138 million worldwide for a total gross of $218 million. That was good enough for Paramount, which got the ball rolling on a sequel in early 2013.
The first Jack Reacher movie was based on the ninth book in Child's series, titled One Shot. The sequel will be based on the 18th novel, 2013's Never Go Back. Here's how Deadline describes it:
In it, Reacher heads back to his old military base in Virginia to take a woman to dinner who is now the commanding officer. By the time he gets there, she has been arrested, and Reacher finds himself being charged with pummeling one guy and fathering a child with a woman. He can't remember either transgression but gets to the bottom of it with cunning and sometimes brute force.
Zwick and Herskovitz previously worked with Cruise on 2003's The Last Samurai. Since then Zwick has also directed Blood Diamond, Defiance, Love & Other Drugs, and Pawn Sacrifice. Herskovitz wrote Love & Other Drugs with Zwick and produced Blood Diamond and Defiance.